Cisco raises axe above 14,000 staff – reports
Doesn't need so many backend staff in post-tin world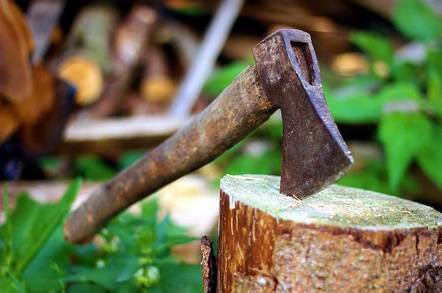 Updated Cisco is rumoured to be laying off up to 14,000 staff - nearly 20 per cent of its global workforce - part of a shift toward becoming a software-focused biz.
Multiple sources have told US site CRN, the cuts will hit between 9,000- 14,000 of the company's global 73,104 employees. The biz has 7,000 employees in the UK.
"They need different skill sets for the software-defined future than they used to have," said one blabber-mouth.
"In theory the addressable market could be higher and margins richer, but it will take some time to make this transition," they said.
Trip Chowdhry, Wall Street Analyst at Global Equities, had predicted back in January that 14,000 jobs will be cut at Cisco this year. That is part of his overall estimate that 333,000 layoffs are expected this year at former tech titans - including one-quarter of IBM's 380,000-strong workforce.
That trend is due to a shift toward cloud computing and less demand for traditional backend IT jobs, he said.
Cisco is to report its full-year results later today.
The company has been keen to position itself as a software company for some time. Earlier this year, Cisco executives told The Register the company is moving full-steam ahead to becoming a software-defined networking operation.
Susie Wee, CTO of networked experiences at Cisco, said: "We will still do the hardware where it matters and where the performance really matters. But we are also embracing things like network virtualisation."
In its last quarter results, the company reported an increase in headcount during the three months to May of 1,447 "driven by additional headcount from acquisitions and investments in key growth areas such as security, cloud and software."
Back in November, Cisco hoovered up London-based collaboration software video conferencing outfit Acano for $700m (£537m).
However, the lion's share of the company's revenue for the quarter came from its switching and routing biz, which accounted for 55 per cent of its $12bn (£9.2bn) revenue.
Cisco declined to comment on the rumours. ®
Updated to add
The actual confirmed figure is roughly 5,500 layoffs.
Sponsored: Minds Mastering Machines - Call for papers now open