Oculus Rift will reach UK in September – and will cost more than two PS4s
Virtual reality: Because one meaningless and uncaring universe isn't enough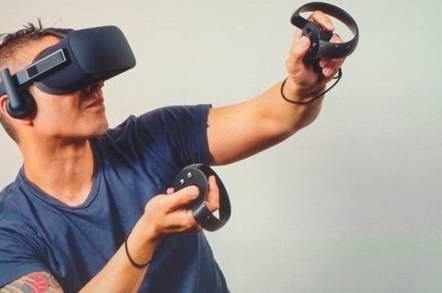 If you don't particularly enjoy reality then you can look forward to not particularly enjoying virtual reality when the Oculus Rift headset reaches UK retailers in September.
While the headset may not quite be the miserable simulacra Jean Baudrillard wrote of, its expected retail price of around £549, as well as the necessity of connecting the headset to a PC running Windows, should bring with it a very familiar sense of ennui.
And not only is the universe meaningless, but it remains a bitter irony that you will need to enter reality in order to get to virtual reality. After much waiting Rift has partnered with retail outlets including Amazon, Game, Harrods, John Lewis and Currys to shift units, though few of them seem to be offering pre-orders at the moment.
When you've finally picked up yet another gadget - which you can do from 20 September - in yet another attempt to distract yourself from the illusion of love and the unnecessarily difficult continuation of all existence, you'll be able to play Lucky's Tale, a platform adventure game in which Lucky, "the fun-loving fox", gallivants about an environment designed exclusively for the Oculus Rift to demonstrate the potential of the headset.
What is that potential? The Rift has two organic LED displays which offer your eyes the illusion that you're occupying a three-dimensional universe, and its integrated headphones again provide yet another simulation of reality – but, of course, that's all we experience anyway, isn't it?
Its in-built rotational and positional sensors will update the images you're viewing at a resolution of 1080x1200 per eye at a 90 Hz refresh rate, again attempting to fool you that you are occupying a universe possessed of some sort of meaning.
Although Oculus founder Palmer Luckey had said the company would allow pornography on the headsets, Facebook - Oculus' owner after a $2bn acquisition - does not support that view. Instead, users will be able to play the Windows 10 Edition Beta of Minecraft on the headset, building and destroying effigies to their own loneliness.
Of course, you may well need to upgrade your PC before you're able to use the specs-crunching Rift, or you could buy an Oculus Ready PC for another £900 if you've got that kicking about. Additionally users will be tethered to the machine (aren't we all, always?) by a 13-foot cord attached to the back of their headset, and as Oculus' tracked controllers are not yet available they'll be stuck with clunky Xbox controllers for now. Still, it's probably better than nothing.®