NASA dumps $65m into building deep space hutches for humans
Space hotel, anyone?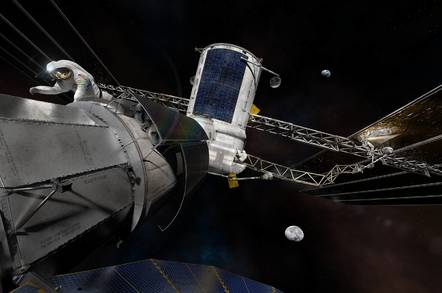 Living in space is about to get a lot more cushty as NASA invests $65m to be shared between six companies chosen to design and develop deep space habitats.
The collaboration between NASA and private companies is part of the space agency's Next Space Technologies for Exploration Partnerships (NextSTEP) set up to advance human space flight missions.
But, the chance to enter to space won't just be limited to just trained astronauts, NASA hinted.
Jason Crusan, director of advanced exploration systems at NASA, said the NextSTEP partnerships were not just to advance deep space habitation development, but also for "stimulating commercial activities in low-Earth orbit."
In order for deep space habitats to be effective for human habitation, NASA lists several requirements, including: a pressurized container; a docking capability; environmental control; life support systems; crew health capabilities; fire safety technologies; logistics management; and radiation mitigation and monitoring.
The six companies will have approximately two years to develop ground prototypes and will be subjected to systems and operations testing in order to define design standards. The six chosen American aerospace technology companies are: Bigelow Aerospace, Boeing, Lockheed Martin, Orbital ATK, Sierra Nevada Corporation's Space Systems and NanoRacks.
NASA's push for deep space habitats is part of its obsession with the idea of life beyond Earth – their ultimate goal is to eventually send humans to Mars. NASA announced its Journey to Mars mission in 2010 and it starts of small; to live on an asteroid by 2025 and then the Red Planet by the 2030s.
Videos and images from the propulsion tests into the Space Launch System were released this week. Space geeks worldwide marvelled in the massive flames bellowing from the rocket's exhausts. The SLS will be the most powerful rocket to be built by NASA, and will be used to propel the Orion Spacecraft – which NASA says will take humans farther than they've ever gone before. ®
Sponsored: Minds Mastering Machines - Call for papers now open