Reasons to be cheerful at Insight: Let's start with bring your dog to work
Reseller giant spells out employee benefits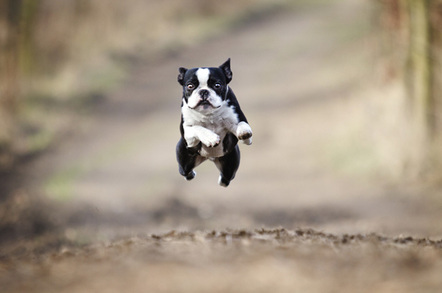 Forget sales commissions, career progression or job satisfaction, Insight Enterprises has another type of employment glue to ensure staff stick around - and it involves dogs.
The reseller's Ministry of Motivation, perhaps better known as HR, has found "four reasons to work" at the reseller and plastered them on a poster to remind every employee.
"Bring your dog to work day" is one benefit - but available to workers in the US only. So the Brits are not good enough for Dog Fight Club, eh?
The other reasons to work at Insight are: "two paid days to volunteer", presumably for charity work; an "on-site health centre"; and the ability to "work with the best people around".
Over in Insight's Australian ops, out went mentions of man's best friend and in came "happy social hours". It didn't specify if this was every hour, once a day or once a year.
The charity time was also jettisoned in favour of paid work-life balance days, which El Reg infers is an extra holiday to staff.
We asked Insight UK's local teamsters if they were given four reasons to work at the organisation, and were told they were not.
But one insider said technical, sales and management training; flexible working hours and location; personal benefits such as medical care and pensions; and a culture of open communication were facets they'd like the company to highlight.
Insight's corporate bods refused to comment. ®
Sponsored: Minds Mastering Machines - Call for papers now open