What's big, blue and red all over? IBM. Profit, z Systems down, cloud up
Blockchain, AI, analytics ... if it's a buzzword, it's the future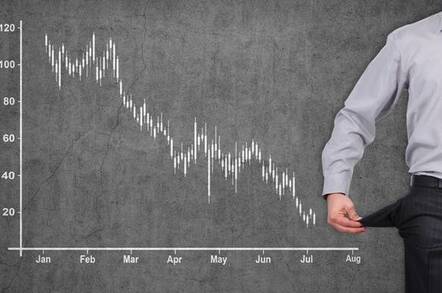 IBM today reported its second quarter financial results and the figures don't look good, with profits falling nearly 30 per cent.
The venerable computing giant did perform slightly better than analysts expected, however GAAP revenues and profits are both down year-on-year. It's the 17th straight quarter of revenue declines for the company, but it reported some bright spots in its figures.
"IBM continues to establish itself as the leading cognitive solutions and cloud platform company. In doing so, IBM is pioneering new business opportunities beyond the traditional IT marketplace," gushed CEO Ginni Rometty.
"In the second quarter we delivered double-digit revenue growth in our strategic imperatives, driven by innovations in areas such as analytics, security, cloud video services and Watson Health, all powered by the IBM Cloud and differentiated by industry. And we continue to invest for growth with recent breakthroughs in quantum computing, Internet of Things and Blockchain solutions for the IBM Cloud."
Net income: IBM made $2.5bn in the second quarter of the year, down 29 per cent from a year ago.
Total revenue: Big Blue pulled in $20.2bn in revenues in the past three months, 3 per cent down on last year. However, Cloud revenues were up 30 per cent.
Earnings per share: While beating analyst estimates slightly, earnings per share were still disappointing for investors at $2.61, down 27 percent year-on-year.
Cash and debt: In its second quarter, IBM has $10.6bn cash on hand. Its debt load is currently $44.5bn.
Dividends and shares: Over the past three months, IBM has paid out $1.3bn in dividends and spent $800m on share repurchasing to support the stock price. IBM management has authorization to spend another $3.9bn buying back its own shares.
A repeated theme in the earnings call was that IBM is reinventing itself into a cognitive solutions and cloud platform company, and there was good news on both those counts. Its cognitive solutions division saw revenues grow to $4.7bn, up 3.5 per cent. Cloud products in that sector rose 54 per cent, and 30 per cent across all of Big Blue's businesses.
IBM's technology services and cloud platforms division saw flat revenue growth, thanks in part to currency fluctuations, the company's CFO Martin Schroeter told analysts. Hybrid cloud sales did particularly well.
The biggest loser was IBM's systems division, which saw revenues fall 23.2 per cent to just $2bn. For this past quarter, z Systems revenues were down 40 per cent, which Schroeter said reflected where the biz is in the product cycle, and storage hardware revenues fell by 13 per cent.
IBM's profits were down $250m thanks to currency fluctuations and the strong dollar. Its European business fell slightly in the past three months, in part due to disappointing figures from Germany and Switzerland, but the Brexit decision by the UK hasn't made an immediate impact.
The market fundamentals for IBM are looking good, Schroeter insisted. IBM is investing in new companies and business departments to try and complete its transformation away from its roots and into a cloudy future. ®
Sponsored: Minds Mastering Machines - Call for papers now open