Tesla whacks guardrail in Montana, driver blames autopilot
Forum post claims 'automation ruined my lovely Model X'
Evidence continues to mount that the Tesla's Autopilot system probably isn't anywhere near as bad as breathless reporting would have it, with the third reported accident in the US since the feature was launched in October 2015.
Given the accident rate human drivers experience – the US road toll for 2014, for example, was more than 32,000 – automated Teslas racking up three reported wrecks this year doesn't make it sound like the 'leccy car maker is unusually dangerous.
The most recent unconfirmed report comes from Montana, where a Model X driver who hit a guard rail told a state trooper he'd just turned on autopilot, as explained in the Detroit Free Press.
"Trooper Jade Schope of the Montana Highway Patrol declined to identify either the driver or passenger, but he did say the driver said he activated the car's Autopilot driver assist system at the beginning of the trip" the report states, adding that the trooper had "no way of verifying" the information.
Someone identifying as a friend of the owner kicked off this thread at the Tesla Motors Club forums about the accident, but the information is similarly unverifiable:
"It was late at night, Autopilot did not detect a wood stake on the road, hit more than 20 wood stakes, tire on front passenger side and lights flyed away. The speed limit is 55, he was driving 60 on autopilot. His car is completely destroyed. The place he had accident does not have cellphone signal, it is 100 miles from the hotel. We are on a 50 people Wechat messenger group. I woke up today saw he managed to get internet to ask people in the Wechat group to call tesla for assistant."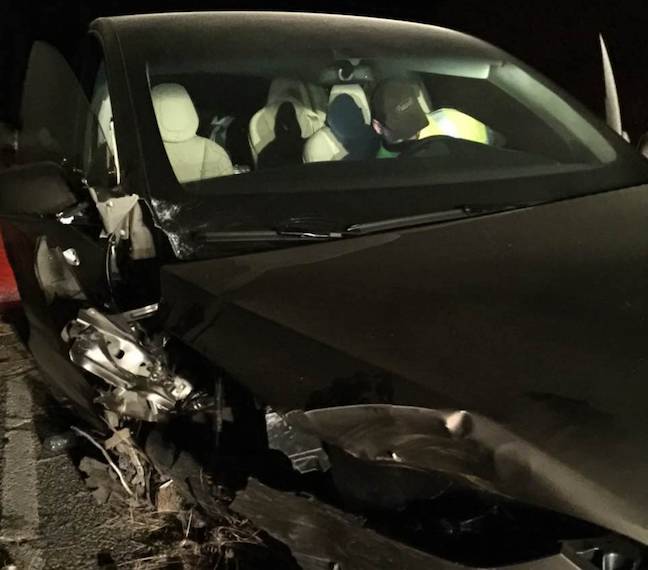 Undoubtedly wrecked, but hard to tell whose fault. The Model X in the forum post
The Register notes that the forum post gives a different location for the accident to the state trooper's report. The police man told the Detroit Free Press the accident happened on the I-90, while the forum post identifies the location as Highway 55.
Earlier this year, in a fatal accident, autopilot failed to respond to a semi-trailer turning in front of the vehicle. The driver, Joshua Brown, was reportedly playing a Harry Potter video at the time of the wreck.
There was also a non-fatal accident on the Pennsylvania Turnpike at the beginning of this month, which the driver Albert Scaglione blamed on autopilot.
Tesla hasn't yet commented on the latest accident – that will have to wait until it retrieves the data from the car. ®
Sponsored: Minds Mastering Machines - Call for papers now open