Mobile phone app replaces Congressional TV as Democrats stage sit-in
C-SPAN rebroadcasts Periscope feed after cameras turned off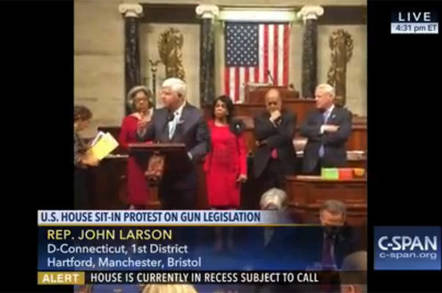 In an extraordinary intervention of app technology into modern democracy, TV station C-SPAN chose to rebroadcast streaming video from a mobile phone inside Congress during a representatives held protest after its cameras were turned off.
Democratic politicians in the House of Representatives decided to stage a sit-in on Wednesday after requests to hold a vote on gun control measures were repeatedly denied by the Republican-controlled chamber.
The sit-in was not broadcast, however, because speaker Paul Ryan had called a recess.
When the chamber reopened, Democrats continued blocking discussion, prompting Ryan to call a second recess. Again, the cameras – which provide a live feed of events in Congress – turned off, plunging station C-SPAN into the dark. The microphones were also turned off.
The politicians refused to end their protest and started doing what politicians do best – giving long speeches – even without an audience.
That soon changed, however, when Representative Scott Peters (D-OH) whipped out his mobile phone and used the Periscope app to live-stream events. Word soon spread on social media and thousands started following the feed. Other Representatives soon joined in, using their phones to provide a live broadcast, including Congressman Beto O'Rourke (D-TX) who started using Facebook's new video service.
Several members are showing Floor on their social media @RepBetoORourke is livestreaming on Facebook https://t.co/5disw7ip8t. #HoldTheFloor

— Rep Donna F Edwards (@repdonnaedwards) June 22, 2016
Things really took off, however, when C-SPAN made the decision to rebroadcast the phone feeds live on their TV channels with a ticker at the bottom noting: "Alert: Cameras in Chamber controlled by house."
The footage is grainy although the audio is surprisingly good. And on occasion the feed has frozen, prompting C-SPAN to cut back to its studio and a newscaster who has repeatedly explained the situation to viewers before turning back to Periscope and Facebook Live feeds when they start up again.
Thank you to my colleagues holding the floor with me & everyone tweeting at us today for the support. #NoBillNoBreak

— Rep. Scott Peters (@RepScottPeters) June 22, 2016
The sit-in started at approximately 11:30AM Eastern Time and is continuing as of 5:30PM, six hours later, built around the phrase and hashtag #NoBillNoBreak. You can follow live online.
A similar filibustering effort was carried out earlier this week, when Senator Chris Murphy (D-CT) and fellow Democrats held the floor for 15 hours when they were refused a gun control vote.
The Republican-controlled Senate eventually gave way and allowed four votes to go ahead. All four failed. ®
Sponsored: Minds Mastering Machines - Call for papers now open