Users fear yet another hack as TalkTalk services go down
Vague hint about the weather in bland company statement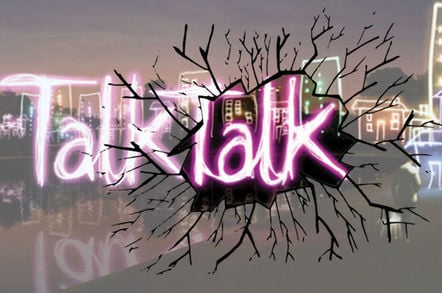 TalkTalk is down again, with frighteningly little being said by the business as to why.
A post on its official forums copped to the problem, apologising for the lack of services.
The website at TalkTalk.co.uk has been replaced with a holding page, where the telco is informing visitors that the "Customer Service team are standing by to help you."
We'd like to apologise for any inconvenience during this time and suggest you try again later. Also due to severe weather conditions some of our systems are currently unavailable which means we may not be able to assist you when calling and suggest you don't call us right now unless it's urgent.
Webmail is also down. At the time of writing there are 414 reports of TalkTalk problems on downdetector. Recent reports there mainly originated from: London, Birmingham, Newbury, Leicester, Manchester, Sheffield, Glasgow, Nottingham, Liverpool, and Brighton.
Users have taken to Twitter to complain about outages affecting a range of services and share their fears that the site may be under another attack.
Anyone else not receiving #talktalk email? Their site is down with a so called upgrade, hacked again? Why not warn customers 24hr before?

— Phat Monkey (@Da_Phat_Monkey) June 14, 2016
@TalkTalk if u want to keep increasing prices I suggest at the very least you ENSURE OUR EMAIL IS WORKING! #talktalk #amateur

— Phat Monkey (@Da_Phat_Monkey) June 14, 2016
@TalkTalkCare no internet for over an hour! Red light on modem, reset twice. No joy. Help

— Louise Desouza (@AnkhProperties) June 14, 2016
A TalkTalk spokesperson confirmed the outage's existence to The Register but has not explained it, which has been known since at least this afternoon. The company stated it would contact us when it was able to offer an update. ®