Robot surgeon outperforms human doctor with porcine patients
Soft-tissue surgery automation looms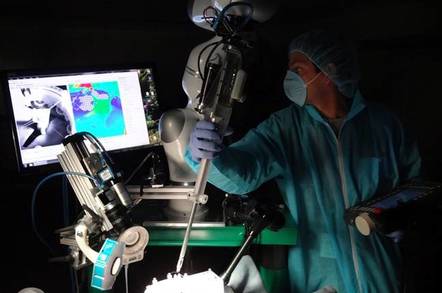 Surgeons beware, your jobs may not have a long-term future after a robot managed to stitch together live soft tissue better than its fleshy counterparts.
A paper published in Science Transitional Medicine on Wednesday detailed how the "Smart Tissue Autonomous Robot" (STAR) was put to the test, stitching together the intestines of live and dead pigs. The robot didn't operate alone – a consultant had to show it where to stitch – but on occasion, it worked faster and more accurately than a human.
"Our results demonstrate the potential for autonomous robots to improve the efficacy, consistency, functional outcome and accessibility of surgical techniques," said Dr Peter Kim, associate surgeon-in-chief of the Sheikh Zayed Institute for Pediatric Surgical Innovation.
"The intent of this demonstration is not to replace surgeons, but to expand human capacity and capability through enhanced vision, dexterity and complementary machine intelligence for improved surgical outcomes."
The robot combines a variety of manipulators, 3D vision cameras, and an algorithm that allows it to analyze how tissue will move when stitched. The consultant painted the area to be worked on with lines of florescent paint, and the robot went to work.
STAR performed in competition with an experienced surgeon, and the Da Vinci surgical robot which operates under human control. STAR was better at placing regularly spaced stitches, and at making sure there were no leakages in the intestines being operated on.
However, the STAR isn't a speed demon. What a human could do in eight minutes, the robot needed 35 minutes to complete (albeit with fewer mistakes).
"Until now, autonomous robot surgery has been limited to applications with rigid anatomy, such as bone cutting, because they are more predictable," said team member Dr Axel Krieger.
"By using novel tissue tracking and applied force measurement, coupled with suture automation software, our robotic system can detect arbitrary tissue motions in real time and automatically adjust."
It's not time for surgeons to fold away their gowns and apply for new jobs quite yet, the team said. It will take two or three years before it's tested on humans, and a lot of work has to be done to miniaturize the components used by STAR, but one day the time could be coming that it'll take some of the load off human surgeons. ®
Sponsored: Minds Mastering Machines - Call for papers now open