Domino's trials trundling four-wheeled pizza delivery bot
Waist-high and just begging to be hijacked by hungry hooligans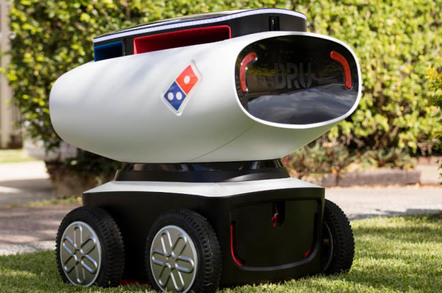 Domino's Pizza's Australian slice has decided wheeled drones trundling down footpaths are the pizza delivery mechanism of the future.
The Domino's Robotic Unit sports LiDAR (light detection and ranging) object detection enabling the four-wheels Wall-E lookalike to deliver hot pizza and cold drinks without bumping into pedestrians.
That re-purposed detection technology is the same being used in driverless car trials across the world.
The AU$30,000, 190kg machine, was dreamt up in Dominos research labs and designed by Sydney military robotics firm Marathon Robotics which has supplied live-fire training bots to the Australian Army.
News of the device emerged on Friday morning, Australian time, a splendid moment at which to give the media something to write about on a slow news day. But there's a bit more to this than a stunt: there's a working prototype, trials have been conducted and thought's been given to safety - the bot will move at walking speed. The battery-powered bot has a range of 20kms and stands about 1.2m high.
Deployment is planned for Australia, New Zealand, Belgium, France, the Netherlands, Japan, and Germany.
The pizza mogul has not set a delivery date for the robot, but says the project will need to pass various regulations before hitting the streets. Negotiations with Australian regulators are already under way to let the bot loose on the streets of the State of Queensland.
If the bot is approved, it will complement Domino's army of human delivery drones and not signal their redundancy, not least because at walking speed it will struggle to deliver a nicely hot pizza more than few hundred meters.
No details were provided on the heavy defences the machine will undoubtedly need to sport if it were to survive a corridor of drunken punters on a Friday night. ®
Warning: This video features Saccharine corporate-speak, but also some decent footage of the bot.
Sponsored: Minds Mastering Machines - Call for papers now open