Woz waxwork weady to woll
Apple co-founder figure to be unveiled at Comic Con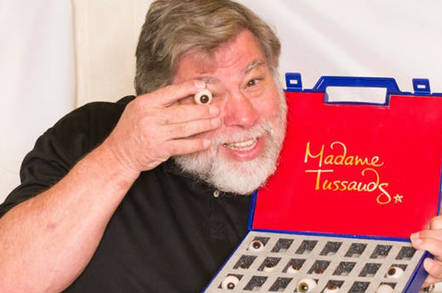 Woz is going wax.
An effigy of everyone's favorite geek will be officially unveiled at Comic Con in San Jose later this month and then moved to the Madame Tussauds in San Francisco's Fisherman's Wharf.
The Apple co-founder was the winner of a poll last year – beating out Elon Musk, George Lucas, Larry Page, Sheryl Sandberg and Marissa Mayer – to take a permanent place alongside his former partner Steve Jobs and Facebook's Mark Zuckerberg in the museum's "tech innovator" section.
Even though the process is time-consuming – requiring a sitting of several hours and then several months of sculpting – Steve Wozniak's waxwork was supposed to be unveiled several months ago. The museum hasn't explained why it's taken so long, but for Woz it's likely just one more delay in a long tech career.
Of course, this being Woz, he is full of joy and happiness at the thought of being rendered in immobile form to stand alongside his old friend. He does some mucking about for pictures and gives a very Woz-happy series of quips and quotes for Tussauds, including a remembrance of how excited he was to see Mark Knopfler's wax figure in London as a kid.
As the voters who put him there ahead of bigger tech celebrities no doubt felt, it's great to see the good guy get recognition. Although we suspect a significant proportion of visitors to the wax museum in future will wonder who the short hairy guy is standing next to Jobs and Zuckerberg.
Woz will personally unveil himself on stage on Saturday March 19 at the San Jose Convention Center. ®