SpaceX Falcon 9 set yet again to soar aloft
Fifth go at SES-9 comms sat launch tonight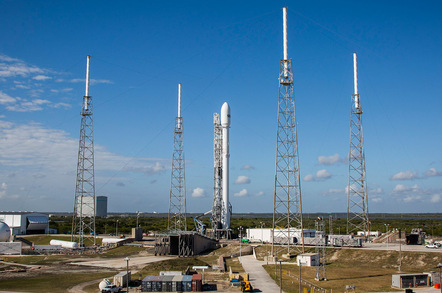 SpaceX will have a fifth pop today at getting its SES-9 communications satellite mission off the ground from Cape Canaveral.
The Falcon 9 launch window runs from 23:35 GMT tonight to 01:06 GMT tomorrow (15:35 PT to 17:06 PT today). A first launch attempt last week was grounded by inclement weather. A second go was aborted with 101 seconds left on the countdown clock. Last Sunday, the Falcon 9's onboard computers shut down the rocket's nine Merlin engines just after ignition due to a "low thrust alarm."
This was caused in part by a tugboat which strayed into the downrange Atlantic Ocean safety zone. The incursion prompted a 35-minute launch delay, prompting a rise in the Falcon 9's super-chilled liquid oxygen (LOX) temperature.
Then, on Tuesday, inclement weather – specifically "extreme high altitude wind shear" – once again kept the lifter on the pad.
Assuming SpaceX manages to get off the ground this time, it'll try to finally land the Falcon 9's first stage on an offshore barge out in the Atlantic – something it first unsuccessfully attempted back in January 2015. In January this year, it came tantalizingly close to pulling off this impressive feat, but the rocket hit the deck when one of its four landing legs failed to lock.
For anyone who's forgotten what a Falcon 9 launch looks like, you'll find below an impressive snap of the lifter lofting 11 ORBCOMM satellites back in December. ®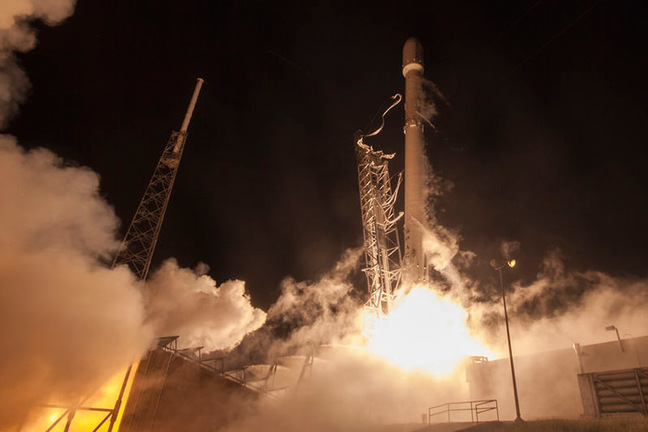 That's more like it. Pic: SpaceX