Fleet of 4.77MHz LCD laptops with 8088 CPUs still alive after 30 years
Reader has 'a couple of dozen' Toshiba T1000s still in use 24/7, and a tale of embezzlement to dazzle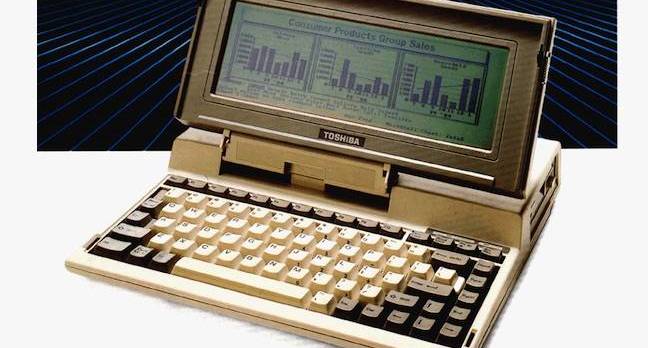 The can of worms we opened when we learned of the server switched off after eighteen years and ten months' service is still wriggling, as a reader has contacted us to tell of nearly 30-year-old laptops still in service.
Reader "Holrum" says he has "a couple dozen Toshiba T1000 laptops from the mid 1980's still fully functional (including floppy drives)."
The T1000 was introduced in 1987, but that's long enough that we'll forgive Holrum the slight lapse, not least because the machine was one of the very first computers to use a clamshell form factor.
While the T1000 was ahead on that front, it also offered a rather archaic LCD display as illustrated above (here for readers on mobile devices and in this manual that Toshiba thoughtfully keeps on the web.
The machine ran MS-DOS 2.11 on a ROM, an oddity at the time when booting from removable media was commonplace. Toshiba seems to have figured out that carrying around an OS disks was not going to be a hit with mobile users, so made the extra investment. The computer came with a colossal 512KB of RAM (enough for anyone!) and a single 3.5-inch floppy drive.
Holrum says the T1000s are taken offline every few years for just the few minutes required to replace the NiCad batteries and give them a clean, before they are returned to duty as process monitoring terminals.
That's not the only oldie Holrum has running: he says he mailed us on a 2005 Mac Mini G4 Power PC machine and typed on an original IBM PC/AT keyboard with an AT to USB adapter. "The keyboard is borrowed from my still working IBM PC/AT purchased the week before they were released to the public (it has a low three digit serial number)."
Impressive. But perhaps not as impressive as another tale Holrum shared, of the solar-powered remote monitoring systems he built in the mid 1980s and which have been running ever since, except for after a mud storm. And that one time a guy shot up the solar panels.
The systems were "deployed in far flung remote locations around the planet" and given a US$10,000 annual maintenance budget. That money was duly set aside year after year, but never used. Except by a "wily manager who noticed the bucks accumulating in an obscure account and for years trousered most of it... until a new accountant noticed."
"He embezzled the money," Holrum says. "Apparently it went on for several years. I guess that explains why he never accepted any promotions."
Do you have older laptops still running? If so, write and let me know.We may even get around to giving this very old computers column a name if it keeps going. ®
Sponsored: Application managers: What's keeping you up at night?