HPE beefs up entry MSA with a bit of flash
SSD price cuts and a denser filer make up a satisfying trifecta
HPE has added SSDs to its entry-level MSA array, re-priced some SSDs, and brought out a new, denser filer, all intended to help customers with limited budgets.
It says its latest MSA Storage options "enable the most affordable dual-controller hybrid flash array from a major vendor."*
The MSA 1040 can now have SSD media to produce a hybrid flash/disk array. It also gets storage virtualization features previously available only on the flagship MSA 2040. These are thin provisioning, enhanced snapshot services, and wide-striping.
Both the 1040 and 2040 can now have the same, lower-priced SSDs**. Users of the 1040, if using flash, get up to 70 per cent lower read cache-based latency and up to a 90 per cent reduction in performance tiering latency.
HPE also claims 1040 users can get up to 75 per cent lower storage costs by using active tiering. It automatically moves infrequently accessed data from enterprise SAS (10k/15k) drives to midline SAS (7.2k) drives.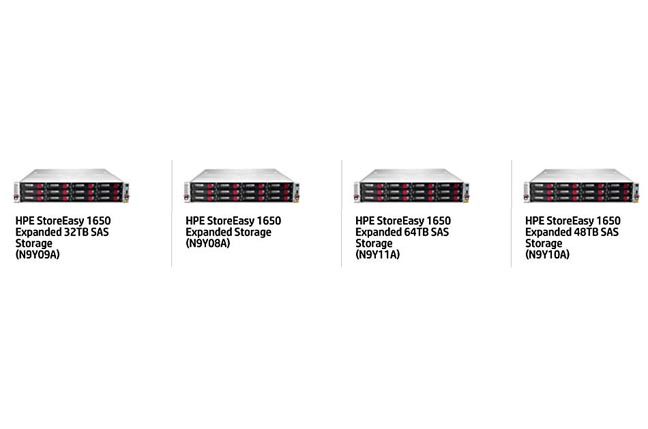 The StoreEasy 1650 Expanded NAS system offers up to 224TB of capacity in a 2U shelf, using 28 X 3.5-inch 8TB disk drives. HPE says it is the most dense 2U NAS appliance on the market.
Compared to a 216TB NetApp FAS2520 it enables customers to store data at 41 per cent lower cost in 80 per cent less space with 82 per cent fewer components – take that, NetApp.
This 1650 has rapid configuration tools, storage provisioning templates, and a centralised monitoring dashboard. It has drive, file system, and data-in-flight encryption, and data access policies based on automatic file classification. The array also offers secure sync-and-share support for mobile users of Apple iOS and Microsoft Windows devices.
Here's the pricing and availability info:
Support for SSDs on the MSA 1040 is available today via the GL220 firmware update, posted on hpe.com and free of charge to customers on warranty or a current Service Contract
The MSA 1040 Advanced Virtualization Upgrade license is currently available, priced at $350
MSA SSD drives are currently available at the following prices and capacity points:

400GB for $2,220
800GB for $4,219
1.6TB for $7,979
3.2TB for $13,899

The MSA 1040 flash/disk hybrid starts at less than $8,500
The StoreEasy 1650 Expanded is currently available and starts at $14,777 with 32TB of capacity
Both new systems are available from the HPE small business marketplace. ®
* Based on published US list pricing from Dell, EMC, IBM, HPE and Network Appliance, January 2016. So HDS, Nexsan and others are not included.
** Based on US list prices for 400GB SSD at $2,220 (previously $3,099), 800GB SSD at $4,219 (previously $5,999), 1.6TB SSD at $7,979 (previously $10,969).
Sponsored: Minds Mastering Machines - Call for papers now open