Microsoft on Cloud 9 after online biz boosts profits to $6.3bn in second quarter
Shares jump 8% on news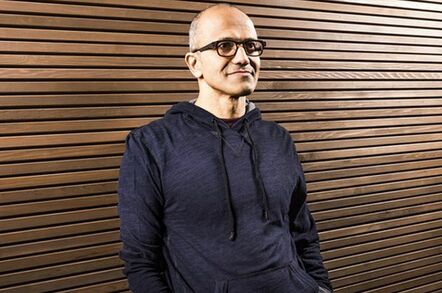 It has proven a happy New Year for Microsoft, with profits of $6.3bn (up 8 per cent on the year) in its second financial quarter – driven largely by increasing revenues from its cloud business.
"Businesses everywhere are using the Microsoft Cloud as their digital platform to drive their ambitious transformation agendas," said Redmond's CEO Satya Nadella in a statement. "Businesses are also piloting Windows 10, which will drive deployments beyond 200 million active devices."
The 8 per cent non-GAAP profit rise on last year's results has left investors pleased, with shares up a similar 8 per cent on the news. The company reported earnings per share of $0.78 and has handed out $6.5bn to investors in share repurchases and dividends.
Non-GAAP revenues were down 10 per cent on the year at $25.7bn, with the Personal Computing division's takings of $12.7bn down 5 per cent, and Productivity and Business Processes down 2 per cent at $6.7bn. But the star performer was Intelligent Cloud, with revenues up 11 per cent and $6.3bn in the bank.
Within intelligent cloud, Azure's revenue bounced up 140 per cent and server products and cloud services is up 10 per cent. Elsewhere, Office 365 got another 20.6 million subscribers compared to 3 million a year ago, and Dynamics CRM Online revenue is up 11 per cent in constant currency.
Sales of OEM Windows licenses are down 5 per cent, outperforming the PC market's overall decline, although Surface sales are up 29 per cent. Search revenue is up 21 per cent and Xbox Live subscriptions rose 30 per cent. Windows Phone revenues were down a whopping 49 per cent, "reflecting our strategy change announced in July 2015," Microsoft said.
"It was a strong holiday season for Microsoft, highlighted by Surface and Xbox," said Kevin Turner, COO at Microsoft. "Our commercial business executed well, as our sales teams and partners helped customers realize the value of Microsoft's cloud technologies across Azure, Office 365 and CRM Online."
Microsoft will be hosting an analysts call on the numbers at 1430pm PT (2230 UTC) with more details. ®
Sponsored: Minds Mastering Machines - Call for papers now open