Obama: What will solve America's gun problem? What could it be? *snaps fingers* Technology!
Prez calls for plans from three agencies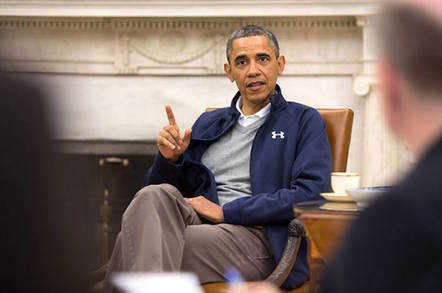 President Obama is looking to increase funding for research and development of new technologies that could help to cut gun violence.
The President said as part of his executive order on gun crime and accidents that the development of technologies to help track lost or stolen firearms and the development of locks to prevent accidental firing would be a key part of a larger plan to reduce shooting deaths in the US.
The plan calls for the US Department of Defense, Department of Justice and Department of Homeland Security to put forward plans that will include research and development projects. All three agencies have been asked to submit their plans within the next 90 days.
The funds could help boost efforts by startups and researchers in the IT and firearms market, bringing money for the development of new products and services for the government agencies and, the administration hopes, the private sector.
"As the single largest purchaser of firearms in the country, the Federal Government has a unique opportunity to advance this research and ensure that smart gun technology becomes a reality – and it is possible to do so in a way that makes the public safer and is consistent with the Second Amendment," the administration said.
The research and development money will be part of a larger effort by the president to help curb gun violence. Along with research and development of new technologies, Obama called for greater spending on mental health care and requirements for background checks and dealer licenses for anyone selling, including sales made over the internet. Sellers will also be required to notify law enforcement when shipped items are lost in transit.
Government programs to track gun crime and illegal gun sales will also be given more money to beef up their operations.
The White House said that it has established the Internet Investigation Center, a program from the bureau of Alcohol, Tobacco and Firearms (ATF) that tracks illegal sales and shipments of firearms online. A further $4m in funds will be used to expand the National Integrated Ballistic Information Network, an ATF program that provides automated ballistics analysis for law enforcement agencies. ®
Sponsored: Minds Mastering Machines - Call for papers now open