ISS 'naut trio return to snowy terra firma
Soyuz capsule touches down in chilly Kazakhstan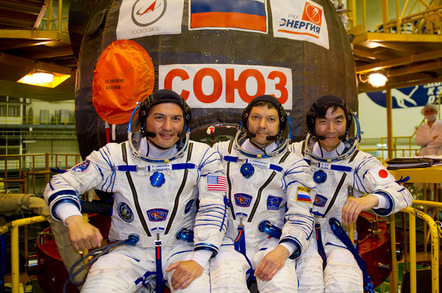 NASA's Kjell Lindgren, cosmonaut Oleg Kononenko and Kimiya Yui of the Japan Aerospace Exploration Agency are back on terra firma following their departure from the International Space Station earlier today.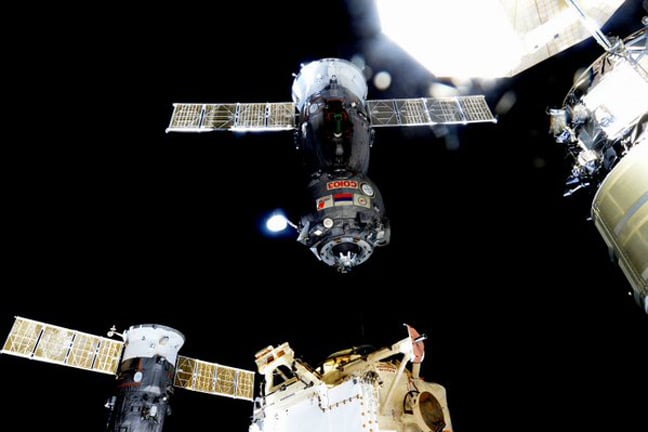 The Soyuz TMA-17M departs the ISS. Pic: Scott Kelly
The trio's Soyuz TMA-17M spacecraft undocked from the ISS at 09:49 GMT, and touched down in darkness north-east of Dzhezkazgan, Kazakhstan, shortly after 13:00 GMT. Poor weather including strong winds and snow at the landing site meant the three were briefly given a medical once-over on the ground before being put into separate helicopters and flown to Dzhezkazgan for full post-landing medical checks.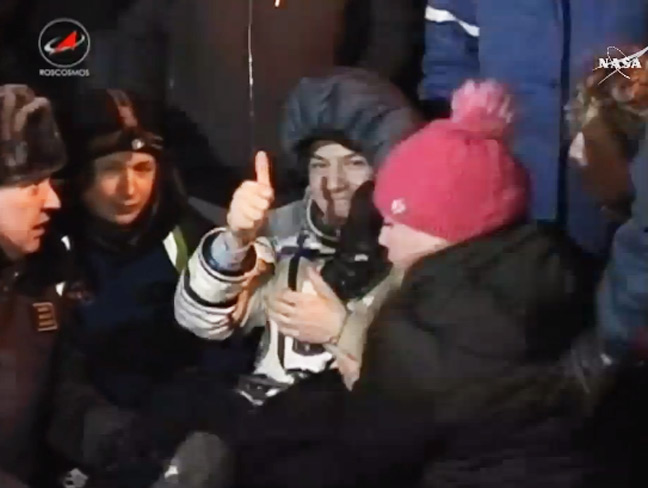 Thumbs-up: Lindgren shortly after extraction from the Soyuz capsule
The 'nauts blasted off from Baikonur Cosmodrome back in July and spent 141 days aboard the orbiting outpost as flight engineers on Expedition 45.
They arrived in space like baby birds barely able to fly & now they soar home as eagles. Great job Kjell and Kimiya! pic.twitter.com/uiNAc49JDf

— Scott Kelly (@StationCDRKelly) December 11, 2015
It was Lindgren and Yui's first time in space, as noted by commander Scott Kelly in the above tweet, but having completed his third trip to the ISS, Kononenko has now enjoyed a total of 533 days in space. He was previously on the station as flight engineer on 2008's Expedition 17, and later as commander of Expedition 31 in 2011-12.
Still on board the station are Kelly and cosmonauts Mikhail Kornienko and Sergey Volkov. They're due to be joined shortly by Brit astronaut Tim Peake, cosmonaut Yuri Malenchenko and NASA's Tim Kopra, who are gearing up to launch from Baikonur on 15 December.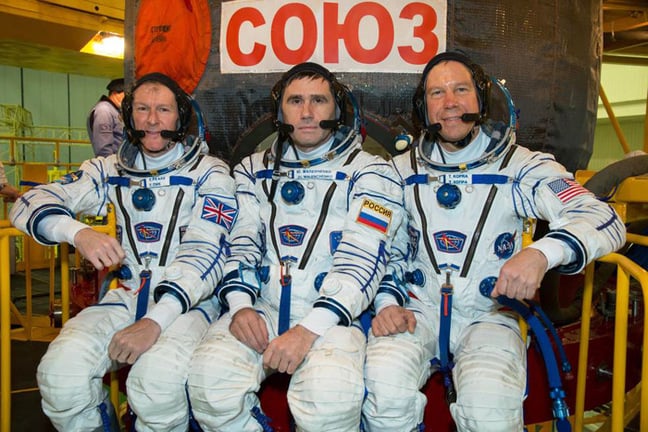 Tim Peake, Yuri Malenchenko and Tim Kopra
The full crew of six will form Expedition 46. ®
Bootnote
In an interview on NASA TV earlier today, commander Scott Kelly confirmed that there is a Christmas tree somewhere "in the attic" of the ISS, which he would dig out. However, it's uncertain if the Cygnus supply spacecraft, which arrived at the station earlier this week, is indeed packing some advanced space Christmas crackers.