FCC revises router update rules after outcry
Promises it doesn't want to control software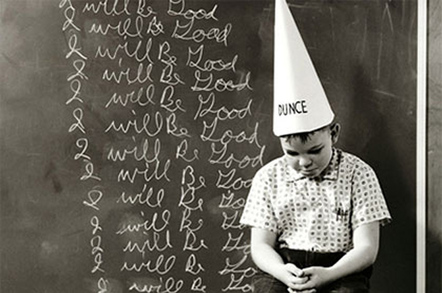 The US Federal Communications Commission (FCC) has put out a "revision" to its proposed rules for updating wireless equipment, stating that it does not want to control software updates to Wi-Fi routers and smartphones.
The four-page document [PDF] was accompanied by a blog post and messages on social media confirming that the federal regulator does not want to prevent all modifications or updates to software.
"Our original lab guidance document asked manufacturers to explain 'how [its] device is protected from 'flashing' and the installation of third-party firmware such as DD-WRT,'" noted Chief of Engineering & Technology Julius Knapp in a post Thursday. "This particular question prompted a fair bit of confusion – were we mandating wholesale blocking of Open Source firmware modifications?"
The answer, according to Knapp, was no, "but we agree that the guidance we provide to manufacturers must be crystal-clear to avoid confusion."
Ummm...
That wasn't all however. When the FCC published an update to its current rules in August, it was intended to pull the FCC into the modern era and prevent it from becoming a chokepoint in the process for the approval of future devices, but it included other worrying wording.
Manufacturers would be obliged to "specify which parties will be authorized to make software changes" and "modifications by third parties should not be permitted unless the third party receives its own certification."
As a result, there was a huge backlash from companies and internet organizations complaining that locking Wi-Fi kit to manufacturers' firmware was a terrible idea.
Knapp acknowledges the outcry but tries to play it down by arguing that that is the reason for public comment in the first place.
"The comments and replies are largely supportive of the Commission's proposals, but one particular element generated thousands of comments from individuals concerned that the proposal would encourage manufacturers to prevent modifications or updates to the software used in devices such as wireless local area networks (e.g., Wi-Fi routers)," he wrote in the post titled "Clearing the Air on Wi-Fi Software Updates."
He went on: "There is concern that our proposed rules could have the unintended consequence of causing manufacturers to 'lock down' their devices and prevent all software modifications, including those impacting security vulnerabilities and other changes on which users rely. Eliciting this kind of feedback is the very reason that we sought comment, and we are pleased to have received the feedback that will inform our decision-making on this matter."
Nothing to see here
The accompanying four-page revision instead "clarifies" that "our instructions were narrowly focused on modifications that would take a device out of compliance."
So there you go then, all sorted.
Not quite. The revised guidance is a mere "guidepost for the rules" and according to Knapp, "there is more hard work ahead of us as we finalize rules, and we welcome continued input from manufacturers, users, technologists, and others."
The response will be welcomed by many, as it shows that the FCC understands the issue and will be accommodating concerns, although the response is characteristic in that it displays the persistent lack of humbleness that the regulator has become known for. You can bet the internet community will be paying closer attention to FCC updates in future. ®