MileIQ drives to Redmond: Microsoft swallows Mobile Data Labs
Your biz commute, sucked up into Office?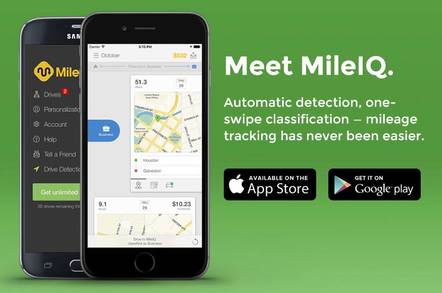 Microsoft has acquired Mobile Data Labs, developers of the popular mileage tracking app MileIQ.
The MileIQ app, which is available for iOS and Android but not for Windows Phone, automatically logs miles driven and lets you categorise and record them, for example to claim business expenses.
According to Microsoft, MileIQ "counts over 1 million users and has been the top-grossing finance app in the iTunes store for 20 months straight." Don't bother trying to install it if you are in the UK though; the app is not available over here.
Why the acquisition? Microsoft says that future versions will "look to take advantage of insights from Office 365 and the Office Graph". The Office Graph is a feature that analyses connections between users within the same Office 365 organisation, in order to assess the relevancy of content such as documents or announcements.
The Office Graph is more relevant to large organisations, where content is more easily missed, yet MileIQ is aimed primarily at "small business employees, entrepreneurs and other mobile professionals." The implication is that Microsoft will steer the app in an enterprise direction. Data provided by MileIQ should be more accurate that the scribbled expense notes that come from manual accounting. This gives potential for such things as business analytics or better allocation of travel costs to the projects to which they relate.
Following the acquisition, will Microsoft work on a Windows Phone version of the MileIQ app? In its latest financial results, in which Windows Phone sales took a tumble, Microsoft stated that "Phone revenue declined 54% in constant currency reflecting our updated strategy." Some aspects of that new strategy are unclear, and the extent of its investment in first-party Windows Phone apps will be revealing.
Microsoft's ability to bring MileIQ to other regions will also be worth noting. The company has a characteristic which Microsoft MVP Aidan Finn calls "The Curse of Zune", referring to its ill-fated iPod competitor which never made it outside the USA. Arguably its current attitude to Windows Phone, which was more successful outside the USA thanks to Nokia's influence, reflects the same problem. In the case of MileIQ, internationalisation does require some work because of hooks to US-specific tax regulations. ®
Sponsored: Minds Mastering Machines - Call for papers now open