Intel and Oracle push into big data, label IBM and SAP cloud clowns
Lord Larry says AWS, not Big Blue, is his real competition now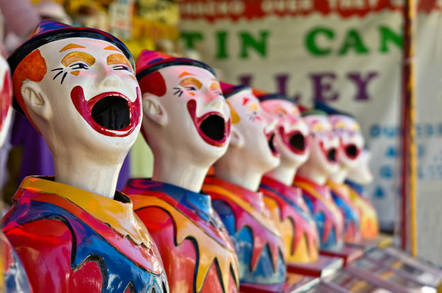 Larry Ellison has dismissed his two historic competitors, IBM and SAP as "nowhere in the cloud," and used Sunday night's OpenWorld keynote to show off products and services designed to bury Big Blue and the HANA heroes.
"We compete with Amazon in cloud infrastructure and never, ever see IBM - this is how much our world has changed," Oracle's chief technology officer and chairman said at the start of the Oracle OpenWorld conference in San Francisco.
"Our two biggest competitors in last two decades have been IBM and SAP and we no longer pay any attention to either one; it's quite a shock. SAP nowhere in cloud, and only Oracle and Microsoft is in every level of the cloud - applications, platform, and infrastructure."
To ruin IBM's day, Oracle and Intel announced a partnership called "Exa your power" that offers a chance for those running IBM Power Systems to conduct a free proof of concept study on migrating to Oracle's cloud. Oracle co-CEO Mark Hurd promised that Big Blue buyers would see lower costs and higher performance.
Intel also used the keynote to show off new hardware that will make it easier for Oracle to seduce SAP's in-memory customers – its latest 3D Xpoint DIMMS. Intel's CEO Brian Krzanich came on stage to show off the new hardware, due out next year, which he claimed was a thousand times faster than NAND, and 10 times as durable.
Krzanich claimed the new hardware will enable 6TB in-memory databases and well and truly set heads spinning as you try to figure out just where data, memory, and storage begin and end.
As for SAP, Ellison claimed that on his rival's own HANA benchmark Oracle delivers more than twice the performance in terms of navigation steps per hour, and said that the fact so many of SAP's in-memory system run on Oracle shows his competition are feeble.
Goodbye old threats, hello new ones
Two competitors Ellison did acknowledge as doing well in cloud are Workday and Salesforce, set up by his protégé Marc Benioff. Of course Oracle thinks it has both beat because all they do is apps.
For a start, Ellison claimed, both Workday and Salesforce are proprietary platforms – if you have your data with either company you are locked in. By contrast, Ellison opined, Oracle relies on open standards and can run equally well on-premises or in Oracle's cloud.
While Salesforce is doing particularly well in software-as-a-service, Ellison reckons Oracle can do better. Salesforce is betting it will get a billion dollars in SaaS business by the end of the year, but Ellison said Oracle expects to do US$1.5bn or more.
Oracle also added to its SaaS portfolio. Two new vertical cloud systems are being added, one for manufacturing and the other for e-commerce. Oracle also plans to reveal a host of new technology over the comping weeks. By the time spoke the words recounted above Ellison had run over time and was treated to the sight of attendees leaving the conference hall early, so he quickly previewed the rest of the conference.
On Tuesday he'll deliver a Larry Lecture on security, exploring ways to share data online without risking its exposure. There will also be hardware security systems on display – "It's very hard to use a software program over the internet to change silicon," Ellison said.
There has also been a major revision of Oracle's multi-tenant software, with version 12.2 coming out this week. Ellison promised it was able to run over 4,000 tenants on one database, while ensuring data security, and was 60 times faster at JSON and 10 times faster at expressions than previous builds.
Also to be explored this week is a new multitenant Java server. This will be able to run in tandem for fault tolerance, enabling an on premise Java app and a cloud Java app to run simultaneously so that if one falls over the other keeps data secure.
On the big data front Oracle has two new tools: a data preparation system for eliminating duplications and a machine learning data discovery system that Ellison said would tap hidden needles in big data haystacks. ®