Never mind the new guys, take a train from our trusty Data Platform – Commvault
Simpana? Never heard of it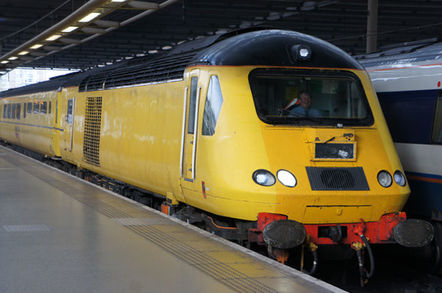 Loss-making Commvault has released details and comments about version 11 of the Commvault Data Platform (CDP) and solutions portfolio, while being careful not to mention Simpana, the previous brand name for its mainstream backup, archive and data management product suite.
Simpana 10 was a massive announcement when it happened in June 2013. Now Commvault has its answer for customers beginning to buy specific data protection appliances and balking at buying the big Commvault software suite.
It's turnaround time, and triple-headed Bob Hammer – Commvault's chairman, president and CEO – had a prepared statement, arguing Commvault had jumped the appliance vendors eating its lunch:
The new Commvault release both leapfrogs point solution vendors in capabilities and functionality, while also showcasing the performance, security, compliance, and economic benefits of a holistic data management strategy.
You just can't trust these new guys, he said. "Now, more than ever, companies are increasingly recognising the need for a trusted partner to assure a solid data management foundation – Commvault is that foundation," he added.
The Commvault 11, or the CDP, will be offered to developers, with an open API, with Commvault hoping an ecosystem will arise around it and help it win new customers. The going-it-alone option is no longer on the table.
It's interesting that Commvault is making Simpana 11, for that's what it is in all but name, integrating with products from Pure Storage, HDS, and Nutanix, in a recognition of new realities and players in its customer base.
"While adjusting to a cloud-centric world is only one part of the company's multifaceted turnaround plan (which includes rebuilding the sales force, expanding distribution channels, and product repricing and repackaging)," said William Blair analyst Jason Ader, "Commvault 11 appears to cement the company's status as a technical leader in the field."
He thinks it could "serve as a catalyst to reinvigorate the company's top line and allow the company to regain industry mindshare and market share over the next several quarters."
Commvault claims its CDP offers:
The ability to create natively accessible secondary copies (REST/FS/APIs) where backup doesn't make economic, performance, nor accessibility sense, like with rich media, pictures, video, etc.
Orchestration for automation of work flows; custom-built ones catered for, and requiring, the activation and usage of points in time of data.
IntelliSnap vendor support for snapshot orchestration has been extended to include Pure Storage and Nutanix.
IntelliSnap application workload coverage expands to include SAP HANA, Sybase and Postgres.
IntelliSnap orchestration expands into replication and DR management options, adding management of EMC and HDS replication configurations to complement existing NetApp replication capabilities.
Universal change block tracking capability that extends across critical applications, virtual servers and file systems with reduction of backup copy windows through changed block capture for files and applications.
It claims it's offering a spectrum of recovery options; snapshots, clones, vaults, and backups under a layer of native access methods:
Instantaneous recovery virtually eliminates downtimes with direct native access from the open platform to point-in-time data copies.
App-awareness with data available in the format required without a rewrite from proprietary storage and indexing protocols.
Extended native or on-demand data delivery services for near-instant interactive access (recovery points) from the Commvault Virtual Repository in the format requested by the application.
Better user interfaces and enhanced reporting plus custom UI consoles both by user role and by use case.
Blair thinks Commvault is a good stock buy right now: "We believe the stock is a win-win at this point: either the turnaround is successful and the stock rebounds strongly or the turnaround fails and an activist gets involved or management throws in the towel, which would likely lead to a takeout at a higher price than the current valuation."
Gosh, maybe I have a few spare pennies lying around.
Check out Simpana Commvault 11 features in the PDF doc. Early adopter customers have a managed release and full general availability comes in December. ®