Oracle, SAP, IBM: They're rubbish and charge you billions for Excel, says man
I have the answer. But no profits. Buy my IPO!!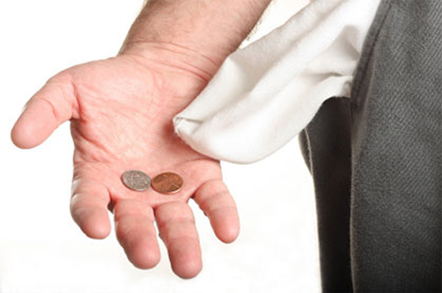 Oracle and SAP have badly let down customers by charging them through the nose, while leaving them with nothing more than Excel spreadsheets to plan budgets, claims Frederic Layulaux, the chief executive of software-as-a-service outfit Anaplan.
"Despite the billions companies have invested in ERP – when it comes to collaborating with numbers, all have the same system: Excel – a tool that is 30 years old," said Layulaux of the US-based startup.
"We are bashing [the] big three – Oracle, SAP and IBM – as the reason companies are still using Excel... because they are failing," he added.
He added: "Every time something needs to be fixed in the enterprise companies have to spend $10m. People are sick and tired of that model."
Anaplan has grown exponentially over the last year, having doubled its headcount to 500 and increased revenue by 134 per cent. And it has now raised a total of $150m (£98m) in venture capital funds since it was founded three years ago.
The company now has 50,000 active users, up 160 per cent on last year, but reckons it wants to target 100 million, in a market it says is worth more the $10bn.
However, like many SaaS players - and unlike the three big vendors it is "bashing" - the biz has yet to turn a profit and doesn't expect to for a long time.
The most notable example of the yet-to-be profitable SaaS players is Salesforce, which was founded 16 years ago. Despite turning over $1.63bn in revenue for its last quarter, the company made a net loss of $852,000.
Anaplan has an SaaS enterprise planning engine that handles complex planning use cases in finance, sales, operations, HR, and other areas. It offers a flexible modelling engine that can scale to support large data sets via a proprietary in-memory engine, called Hyperblock.
Layulaux hinted that Anaplan has been approached by one of its larger competitors in an attempt to gobble it up. But he refused to say by whom.
Instead, the company is holding out for an IPO - something it hopes will happen soon.
Paul Hamerman, business apps analyst at Forrester, says he believes Anaplan is a competitive threat to traditional on-premises providers. "The Enterprise Performance Management (EPM) market is transitioning fairly quickly to SaaS, and Anaplan is one of a few vendors in a good position to acquire customers looking to move from on-premises systems to SaaS," he said.
A spokeswoman from SAP said the company offers a range of "competitively priced financial planning tools". She added customers can also continue to use Excel if they prefer. Oracle declined to comment, and IBM has not yet responded to our request for comment. ®
Sponsored: Minds Mastering Machines - Call for papers now open