Amazon reveals $50 Android-ish Fire tablet it will axe in two years
If at first you don't succeed, why worry? You've got billions of dollars to blow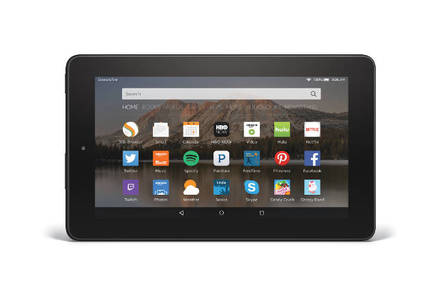 Amazon has pumped out its latest attempt to stake a claim in the luggable electronics market with a $50 tablet.
The retail giant said its new seven-inch Fire tablet will sport a 1.3Ghz quad-core processor – most likely ARM compatible – with 8GB of storage (and a microSD slot), a 1024 x 600 resolution touchscreen, and a seven-hour battery life.
The Wi-Fi-only low end of the Fire tablet line will run Amazon's custom flavor of Android, in this case Fire OS 5 "Bellini." It has a front-facing VGA and rear-facing 2Mp camera, and connects with a Mac or PC via USB 2.0.
Amazon made its intent clear with the $50 tablet: the bargain-basement gizmo is all about price point. As has long been its tactic, Amazon is aiming to undercut rivals and take a hit on hardware costs in exchange for getting more eyes (and credit cards) onto its media stores.
The basement price is so much a selling point that Amazon is willing to offer a bulk discount: buy five tablets for $250 and get a sixth free. Amazon is even making a special caddy to help you carry around all six of your cheapo-slabs.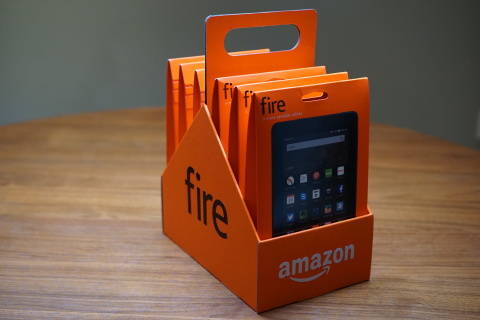 Jeff Bezos: blurring the line between consumer electronics and carry-out tacos
"Today, we're taking another step in our mission to deliver premium products at non-premium prices," Amazon CEO Jeff Bezos proclaimed.
"The all-new Fire features a quad-core processor, is incredibly durable, and is backed by the Amazon content ecosystem, the new Amazon Underground, and Amazon customer service with Mayday screen sharing. Fire sets a new bar for what customers should expect from a low-cost tablet."
This just eight days after Amazon binned a nearly identical effort to muscle into the smartphone space. Just as Apple was gearing up to roll out a new iPhone, Amazon quietly announced it would no longer produce its Fire Phone, the handset it first introduced in 2014 and four months later cut to a price of just 99 cents.
Amazon has not fared much better in the tablet space – where it touts the six-inch Fire HD, the eight-inch Fire HD and the 10.1-inch Fire HD fondleslabs. Research house IDC has not listed Amazon amongst its top five tablet vendors in over six months, failing to even capture a 3.6 per cent share of tablet sales. ®
Sponsored: Minds Mastering Machines - Call for papers now open