Why did the chicken and CHiPs cross the road? FOWL-UP foiled in Oakland
Pickup cockup cock box bugout takeout by California's finest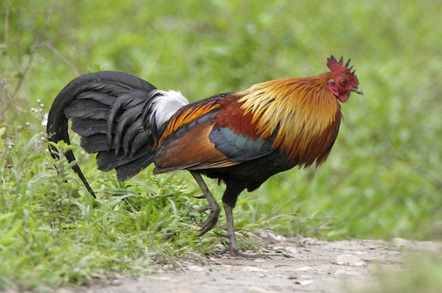 Why did the chicken cross the road? The owner, Ken Houston, a former Oakland mayoral candidate, has stepped forward and revealed the answer to the Associated Press.
The known fugitive chicken (KFC?), which was named Chip, for it was the California Highway Patrol (CHiP) that captured it, escaped from a cardboard box in the back of Houston's pickup truck.
Another chicken escaped from its cardboard box prison, but remains on the wing in search of its nugget of freedom.
Chip received much media attention after fowling up traffic at the Oakland-San Francisco Bay Bridge last week – no doubt the reason for it crossing the road.
Houston, who is 50, said he realised the chicken was missing when he stopped his truck at the Oakland Army Base, where he was checking on a work project.
"I look around, look around, look around and then I leave," he told AP.
The small brown chicken was eventually apprehended by the CHiP, which tweeted about Chip, describing him as a "felonious fowl":
The felonious fowl that was captured on I-80 near the @BayBridgeInfo Toll Plaza this morning. #CantMakeThisStuffUp pic.twitter.com/aTVenJRiE7

— CHP Oakland (@CHPoakland) September 2, 2015
Houston attended Oakland Animal Services where the chicken was being held, and an employee informed him that the former-KFC was safe. She additionally assured him that he would not get into hot water over the trouble caused.
Houston was reportedly donating the birds to the garden at Stonehurst Edible Schoolyard, where several chickens had recently died. The circumstances of the school chickens' deaths were not stated.
"It's so great because we are finishing the mission. The mission was to give [the school] the chicken so they can enjoy it in the garden, in their own backyard and see nature," Houston said. ®