If at first you don't succeed, you're probably Google: Android Pay arrives
Like Wallet and Apple Pay but with less hype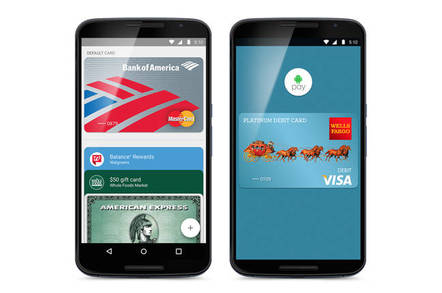 Google has finally rolled out its new mobile payment system for phones running Android in the US.
Called Android Pay, the system largely copies Apple's Apple Pay system for iPhones by using the credit card companies' preferred method of "tokenization," which means a single-use token rather than your actual credit card information is shared when you pay for something with your phone.
Google's previous effort at online payments, Google Wallet, failed to get much support from the retail industry largely because it went through Google's own app. Telcos did see the future coming however, and set up a competing payment app: which Google then bought.
The new approach has led to immediate adoption by the big four credit card companies: American Express, Discover, MasterCard and Visa. And the banks are onboard too, allowing you to store your bank cards on the device to be used to pay for things. Those banks include: Bank of America, Discover, PNC, U.S. Bank, Citi, and Wells Fargo with Capital One.
Most important though: where can you use it?
So far, Google says Android Pay will be accepted at a range of large outlets including Walgreens, Office Depot, Macy's, Staples, Subway, Whole Foods, and others. The path has clearly been opened by Apple's mobile payment system launched just under a year ago. However, while Apple charges a small fee (0.15 per cent) every time someone uses Apple Pay, Google apparently will be providing its service for free, taking its spoils in the stream of purchasing data it will then gain access to.
At the moment, you cannot use the system to pay for things within apps, but Google says that is coming. It also says that it will add loyalty cards and allow for special offers soon.
As for Google Wallet users, the wallet app will be updated to work with Android Pay. New users will be able to download Android Pay in the next few days. It will work on anything with KitKat 4.4 and up (the latest version as of writing is 5.1.1). It will come pre-installed on all new Android phones (well, those with NFC included). ®
Sponsored: Minds Mastering Machines - Call for papers now open