Trio of 'nauts thunder towards International Space Station
Soyuz soars heavenwards from Baikonur Cosmodrome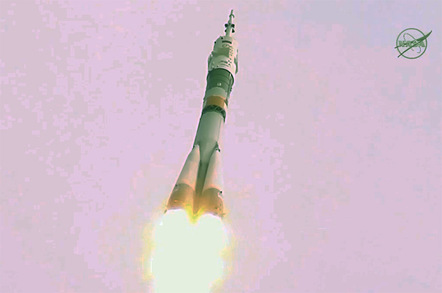 The Kazakh Space Agency's Aidyn Aimbetov, European Space Agency (ESA) astronaut Andreas Mogensen, and Russian cosmonaut Sergei Volkov are en route to the International Space Station following their successful dispatch heavenwards from Baikonur Cosmodrome earlier today.
The Soyuz TMA-18M launches to the ISS. Pic: ESA / S. Corvaja
The trio lifted off aboard Soyuz TMA-18M from the Gagarin launchpad, which celebrated its 500th launch as the vehicle left the ground.
Once aboard the orbiting outpost, the new arrivals will join Expedition 44 commander Gennady Padalka and his compatriot flight engineers Oleg Kononenko and Mikhail Kornienko, NASA flight engineers Scott Kelly and Kjell Lindgren, and the Japan Aerospace Exploration Agency's (JAXA) Kimiya Yui.
On 11 September, Expedition 45 will officially begin as Aimbetov, Mogensen and Padalka climb aboard the TMA-16M capsule already docked with the ISS, ahead of their return to Earth.
During his short visit, Mogensen will "control three rovers from space in two experiments, hunt elusive sprites during thunderstorms, purify water with a new nanotechnology membrane that mimics cells found in every living being on Earth, wear a tailor-made SkinSuit to alleviate back problems and use a mobile headset that allows ground control to look over his shoulder as he works", according to ESA.
Kelly and Kornienko have a rather longer wait for their taxi ride home. On 15 September, they'll reach the halfway point of their planned 342 consecutive days aloft, during which they'll "advance understanding of the medical and psychological challenges astronauts face during long duration spaceflight, in addition to developing countermeasures that will help minimize adverse effects", as NASA puts it.
Volkov is also in it for the long haul, and isn't due to touch terra firma until March next year, when he'll travel the return leg with Kelly and Kornienko on the TMA-18M which launched today. ®