Human sacrifice. Android Wear syncing with iPhones. Cats and dogs living together. Mass hysteria!
Google app gives Apple gear a wristjob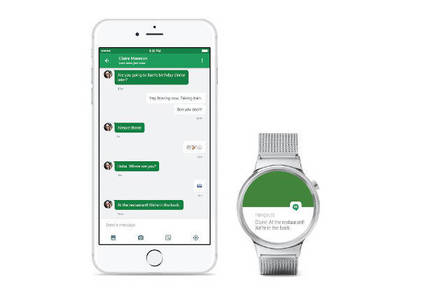 Google has released an app to allow Android Wear smartwatches to sync with Apple iPhones.
The Android Wear for iOS app will allow users to pair up their Apple handsets with Android watches.
Previously, wearing an Android smartwatch also required owning an Android phone to sync with. Google said that all future Android Wear devices will now be compatible with the iPhone as well.
"All future Android Wear watches, including those from Huawei, Asus, and Motorola will also support iOS, so stay tuned for more," wrote Android Wear director of engineering David Singleton.
Running the Android Wear for iOS app will require a device running iOS 8.2 with the iPhone 5, 5S, 5C, 6, and 6 Plus. Apple said the iPad and iPod Touch are also supported, though the software has been designed to work primarily with the iPhone.
Apple, of course, offers its own smartwatch to pair with iOS devices. The Apple Watch shipped an estimated 3.6 million units over the second quarter of this year, according to International Data Corporation (IDC). The research house put Apple as the number two wearables vendor with a 19.9 per cent market share, behind only FitBit's 4.4 million units and 24.3 per cent market share. The Apple Watch was by far the most popular smartwatch model in a ranking topped mostly by fitness band vendors such as Garmin and Xiaomi.
Samsung, meanwhile, was a distant fifth, having shipped just 600,000 units, good for a 3.3 per cent market share. No other Android Wear vendor was in the top five. ®