Roll up, roll up, for the Meta35: The hybrid snapper's data dumpster
Brings film cameras into the digital realm with capture metadata
In use
The available camera tweaks will depend on which model camera you're using. On the F90x, it's possible to set things like flash sync speed, set bulb mode to use one press to open and one to close, lock out manual ISO changes, change focus priority and various other useful tweaks.
Sadly, you can't tell it to leave the leader out when rewinding. Groups of presets can be saved and loaded, too, if you want. And, of course, you can select whether or not exposure data should be recorded, and how much of it.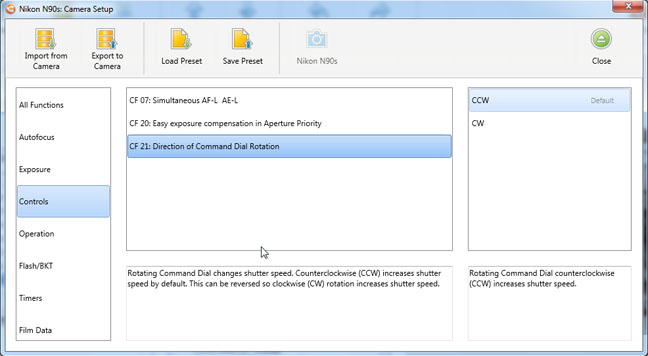 Depending on your camera, there's a range of settings that can be tweaked via Meta35. Click for a full-size image
Once you've turned on recording, you can download data from the camera to your computer, and either leave it in the camera memory, or delete it to make more space; the number of rolls stored will depend on your camera model.
Each roll is numbered, and you can add a description too, in case it takes a while to get the film processed. Basic metadata like name and copyright can be set up easily and applied to a whole reel.
When your film's been digitised, you just point the Meta 35 app at the folder containing the images, and select the correct film roll. You can omit images or shot data, or change order, to match everything up.
With one film per folder, I didn't run into any problems. Then a click on the Embed Data button and an optional backup copy of the images is saved before files are re-written with the extra EXIF information added.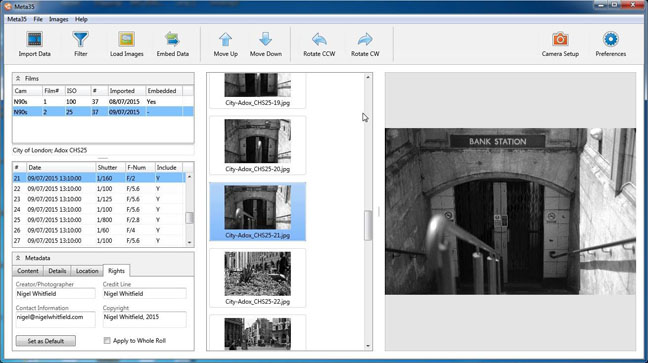 Embedding EXIF info is simple. Click for a full-size image
The result? When images are shared, they now have the correct camera model, instead of the scanner. The focal length, ISO, shutter speed and aperture are all correctly embedded – see examples here. And that makes it much easier to remember how you got the results you like, or see what you could have done differently.
Yes, Meta35 adds extra steps to your film-to-digital workflow, but if you want to keep a record of exactly how you shot things, it certainly beats writing everything down when you take a photo.
At US$149 (£95), it's not the cheapest accessory for an old film camera. But if you're still using one of the supported models regularly, and digitising your photos, it's definitely worth a look. ®
Sponsored: Minds Mastering Machines - Call for papers now open

Roll up, roll up, for the Meta35: The hybrid snapper's data dumpster
A useful app and USB dongle that lets you capture shooting metadata from your 35mm SLR
Price:
$149, approx £95 RRP