Free internet for kids! Obama's offering free internet to kids! (Yes, there's a catch)
A sad catch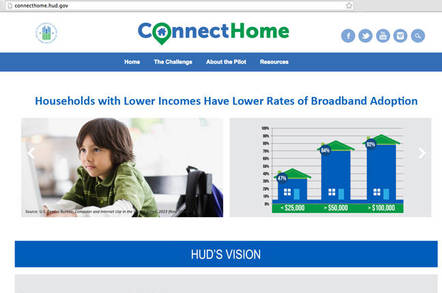 President Obama will officially launch Wednesday afternoon a new program to get kids in flat-broke households online.
ConnectHome is a joint partnership between the federal government (the Department of Housing and Urban Development (HUD)), local communities, and a number of different profit and non-profit organizations that will provide free or low-cost internet access to homes, as well as teach people how to make the most of the internet.
The program is being touted as a pilot program that will initially cover 27 cities and one tribal nation and impact 275,000 hard-up households. Its focus is on getting internet access to kids – 200,000 of them in this case – with the White House quoting stats that show children in poor households are at a disadvantage due to not having internet access at home.
"More than 90 percent of households with a college-educated parent use the internet – and fewer than 50 percent of households with less than a high-school education have internet access," an official announcement notes.
Children without internet access at home typically perform worse on tests, which has a subsequent and life-long impact on their job and economic prospects. Schools are also increasingly using the internet as a key part of homework assignments, meaning that those without internet access are at a distinct disadvantage.
The ConnectHome umbrella is being used to announce a wide range of programs, but one that has caught a lot of attention is Google's offer to provide completely free internet for up to 10 years to public housing units in four cities where its fiber service reaches.
According to Google, HUD chose four communities in Atlanta, Durham, Nashville, and Kansas City but the search engine giant will expand that to cover "every other current and future Google Fiber market."
Among the other initiatives are:
Broadband access for $10 a month in Seattle, Macon, Meriden, Baton Rouge, and New Orleans, as well as some free services from Sprint, AT&T, and Verizon in select locations
Free digital literacy classes from Best Buy in Atlanta, Los Angeles, New York City, San Antonio, and Washington, DC, and from College Board in Cleveland, Los Angeles, New York, San Antonio, Washington, DC, and the Choctaw Nation of Oklahoma
Tablets for $30, complete with educational software, in Macon, thanks to Cox Communications' foundation
President Obama will be in Durant, Oklahoma, talking live at 3:45pm PST to announce the program. Durant is the center of a number of the programs, including free digital literacy training and courses given by the Boys & Girls Clubs of America, Southeastern Oklahoma State University, and the Durant Independent School District to HUD residents in the Choctaw Tribal Nation. ®