Google exec and avid climber dies on Mount Everest
Dan Fredinburg suffers fatal head injury in avalanche set off by Nepal earthquake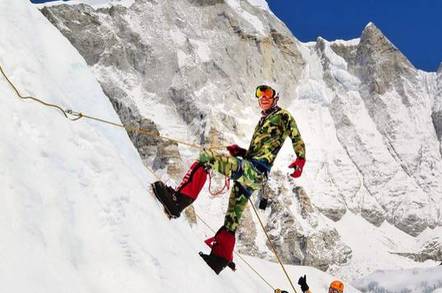 One of Google's top privacy wonks was killed by an avalanche on Mount Everest on Saturday. The snowslide was triggered by a massive Nepal earthquake that has reportedly claimed the lives of more than 2,000 people in the region.
Dan Fredinburg had worked at Google since 2007 as a product manager, software engineer and the ad giant's head of privacy on its Google X projects.
An avid climber, Fredinburg went by the self-styled moniker of "Google adventurer".
Google's privacy director Lawrence You confirmed in a statement late last night that Fredinburg had died.
He said:
Early this morning, Nepal experienced the worst earthquake in its history, registering 7.8 on the Richter Scale. Current reports are that over 1,000 people were killed. It's a terrible tragedy.

Sadly, we lost one of our own in this tragedy. Dan Fredinburg a long-time member of the Privacy organisation in Mountain View, was in Nepal with three other Googlers, hiking Mount Everest. He has passed away.

The other three Googlers with him are safe and we are working to get them home quickly.
Fredinburg's sister Megan had written about her brother's death on his Instagram page earlier that evening. She said:
"I regret to inform all who loved him that during the avalanche on Everest early this morning our Dan suffered from a major head injury and didn't make it."
In 2013, Fredinburg penned a Google blog post about mapping some of the most famous mountains for the company.
He had spoken with Time magazine about his expeditions to four of the world's "Seven Summits" and explained at the time that his adventures were not easy having been punctuated by downpours, mudslides and even a 6.9 magnitude earthquake near Everest. ®