LenovOUCH expands bits-blistering bodgy battery boomerang
ThinkPads burn two, turn punter's skin scarlet and burned their clothes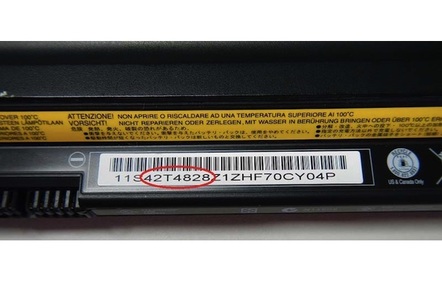 Lenovo has extended the recall for bodgy batteries it shipped with ThinkPad computers between 2010 and 2012.
The company's once again alerted the world's governments, and their product safety agencies, that plenty of ThinkPads shipped with Lithium-ion batteries that "may overheat, posing a fire hazard" and therefore "pose the risk of fire and burn hazard to consumers."
The risks are real: the company says it's "received four reports of incidents of battery packs overheating and damaging the computers, battery packs and surrounding property"
"One incident included a consumer's skin being reddened and burn marks on the consumer's clothing."
That's an escalation of the initial 2014 warning that saw the company report "battery packs overheating, resulting in damage to the computer, battery pack and nearby property."
By The Register's calculations, the list of ThinkPad models* with the problem has grown a little since the recall was announced in March 2014.
To figure out if your ThinkPad is a burner, have a peek at the battery and look at the fourth digit on its serial number. If that number starts with the sequences below**, get thee to Lenovo's battery recall page to get satisfaction, in the form of a new battery. Lenovo's helpfully advising that its laptops will work just fine without batteries, if plugged in to a wall outlet. ®
* The US Consumer Product Safety Commission now lists the following models as worthy of recall: Edge 11, 13, 14, 15, 120, 125, 320, 325, 420, 425, 430, 520, 525 and 530 series; the L412, L420/421, L512 and L520 series; the T410, T420, T510 and T520 series; the W510 and W520 series; and the X100e, X120e, X121e, X130e, X200, X200s, X201, X201s, X220 and X220t series.
**42T4695, 42T4711, 42T4740, 42T4798, 42T4804, 42T4812, 42T4816, 42T4822, 42T4826, 42T4828, 42T4834, 42T4840, 42T4862, 42T4868, 42T4874, 42T4880, 42T4890, 42T4944, 42T4948, 42T4954, 42T4958, 45N1022 and 45N1050.
Sponsored: Minds Mastering Machines - Call for papers now open