Chinese 'Superphone' manufacturer declares war on Apple
Godwin's Law makes an appearance during handset launch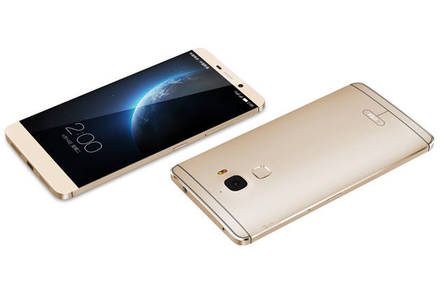 Under the moniker of "Superphones", streaming TV company LeTV has launched a trio of high-end mobes with all the subtlety of a hippo with toothache.
As the first devices to have a new reversible USB type C, the specs are impressive.
The key application for the device is LeTV's over-the-top video service, akin to Netflix. As a result it's not too worried about locking to a network and so the phones are dual-SIM.
Top of the range is Le Max, which with a tiny bezel and curved rear case looks like an iPhone from the front and an HTC from the back. It borders on phablet, with a 6.3-inch 2K display made by Sharp. The screen is 1440x2560, which gives 464ppi.
The colour balance has been tweaked for watching video, but users can select different colour profiles. There is high-end (for a phone) audio with a custom processor, Dolby and DTS.
The CPU is the octa core big.LITTLE Qualcomm Snapdragon 810 which Samsung recently eschewed. Fast memory helps performance, of course, and the Max has 4GB of LPDDR4 memory.
The camera set-up is similarly high-end, with good sensors and optics. The sensor is the Sony IMX230, a 21-megapixel sensor with 1.12 micron pixels, which can shoot 4K videos at 30fps and 720p at 120fps.
Sony makes big claims for the sensor, particularly its speed of image detection and autofocus, and the quality of its HDR images and videos. The Sony six-element f/2.0 spherical lens gives good light sensitivity and is very thin, which makes the convex-backed phone between 8.95mm and 4.8mm wide.
If it were not for Le Max the lower-range Le 1 and Le 1 Pro would be seen as spectacular. The Le 1 has a 5.5-inch display, MediaTek Helio X10, 13-megapixel rear camera and a 5-megapixel front-facing camera, while the 1 Pro has a 5.5-inch 2K Sharp display and a Snapdragon 810 processor.
In the run up to the launch, LeTV laid into the closed world of Apple and posted a cartoon on its Weibo (Facebook for the Chinese) page. Initially this showed a cartoon of Hitler wearing an Apple armband refusing entry. The cartoon has now been modified to show a king.
LeTV has announced that it has plans to enter the US, but not what those plans are. So for the moment, the new handsets will only be available with LeTV contracts in China. It has also announced plans to build electric cars.
Godwin's Law asserts that as an online discussion grows, the probability of a comparison with the Nazis or Hitler increases. ®