Microsoft dumps ARM for Atom with cut-price Surface 3 fondleslab
Well, that just about wraps it up for RT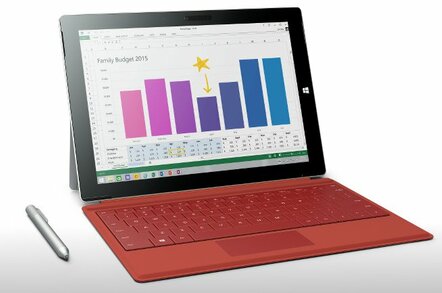 Pic + vid Microsoft's brief flirtation with ARM-powered Windows RT tablets looks to be over: the Redmond giant has unveiled its latest fondleslab, the Surface 3, which is a dinky Atom-powered slate running a full version of Windows on Intel hardware.
Up until this latest tablet, Surfaces have sported ARM-compatible processors, and Surface Pro devices have used Intel chips. Now it appears Microsoft is going all-Intel.
"It feels like yesterday that Surface came onto the scene, but the products you see today are the result of years of iteration through many development cycles," said Panos Panay VP for Surface Computing at Microsoft.
"We have used that time to listen to our customers and to learn from them. We've also built on all the past work of our engineering, design, software and manufacturing teams, mastering the processes that allow us to offer products that are both beautiful and incredibly powerful."
The new Surface 3 is a 10.8-inch device, slightly smaller and lighter than the Surface 3 Pro's 12 inches. Inside, the 14nm Intel 1.6GHz quad-core Atom x7-Z8700 processor runs 64-bit Windows 8.1, and owners will be able to upgrade to Windows 10 for free later this year. Microsoft is also bundling a one-year subscription to the Office 365 cloud with the device.
The Surface 3 has a 3.5-megapixel front camera and an 8-megapixel camera on the other side, as well as the usual USB 3.0 and Mini DisplayPort sockets and a slot for a microSD card. The new Surface adds a microUSB port, which can be used to power the device instead of the usual 13W charger or to transfer data at USB 2.0 speeds.
There are two models – a 64GB build with 2GB of RAM for $499 (£419 in the UK) and a 128GB version with 4GB of RAM for $599, with LTE versions coming out later in the year for $100 extra respectively. That's considerably below the $799 asking price for a base spec Surface Pro, but there are some caveats.
The new tablet doesn't come with a pen, which adds $50, and you'll also need a keyboard for serious users, which is another $130 for the Type Cover. The new fondleslab also has a rear-mounted kickstand that's limited to three positions, rather than the fully adjustable model found on the Pro build.
For those worried about storage, the more capacious of the new surface models looks a better bet. The operating system and ancillary software takes up 37GB of the 64GB Surface and, while the microSD slot is handy, that's not a lot of space to play with, even accounting for the terabyte of storage on OneDrive that comes with Office.
Although Microsoft has been making noises about updating its Windows RT lineup, it's clear from Tuesday's announcement that ARM-powered Windows RT is going the way of Bob, Zune, Clippy, and Steve Ballmer – ideas that sounded good at the time but proved to be disastrous.
Instead the firm's fondleslabs are going to be WinTel machines, and it's full-fat Windows from now on in. ®