Bye bye, booth babes. IT security catwalk RSA nixes sexy outfits
Wouldn't wear it in the CEO's office? Don't wear it on the show floor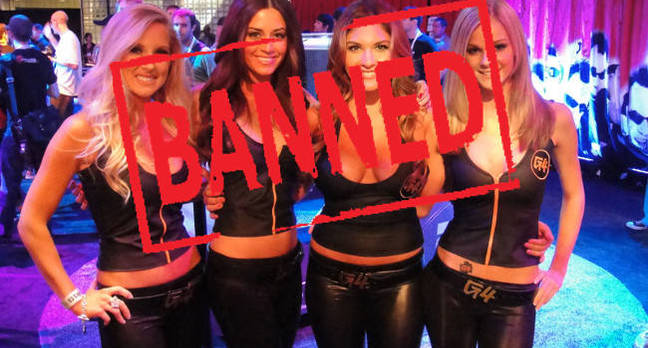 The organizers of this year's RSA security conference have made at least one thing clear to exhibitors: no booth babes.
The industry shindig has sent out a new dress code banning scantily clad models, regardless of gender, from wandering the show floor.
The rules dictate that exhibitors cannot wear shorts, tank tops and halter tops, miniskirts or tops that show "excessive cleavage." Lycra body suits are also out, as are "objectionable or offensive" costumes. Anyone breaking the rules will be thrown out of the four-day conference, due to kick off on April 20 in San Francisco, California.
The rules apply to men, though we doubt it will have much of an impact; male booth, er, hunks are few and far between. Flocks of buxom young ladies handing out fliers and posing for photos is an all-too depressing sight at tech conferences.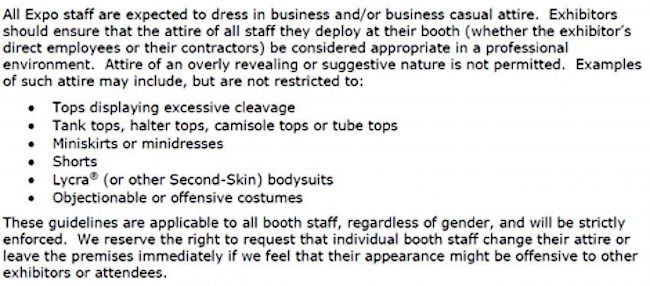 Dress code ... Rules sent to RSA Conference exhibitors for the 2015 event
The hiring of booth babes is coming under fire more and more, with critics arguing that the practice is sexist, insulting, and encourages harassment of attendees and exhibitors who are women.
A number of prominent trade shows, most notably the Shanghai Auto Show, have issued similar rules banning exhibitors from dressing booth staff in revealing clothing.
People shouldn't (just) be upset that RSA had booth babes. They should be terrified that security purchasing decisions were based on them.

— Matthew Green (@matthew_d_green) March 26, 2015
The RSA conference usually has relatively far fewer booth babes than most conferences due to its decidedly enterprise focus. With the new rules in place, the practice will likely be all but eliminated, forcing exhibitors to rely on the good looks and charm of their own staff or PR agency. ®
Sponsored: Fast data protection ROI?