Mono Magic: Photography, Breaking Bad style
Snap up a bargain with film cameras and a bit of DIY
Personal process
However, it's actually surprisingly easy to process black and white film yourself at home. A developing tank, a couple of jugs and some chemicals will get you started. Pick up cheap syringes or measuring cylinders on eBay for measuring quantities.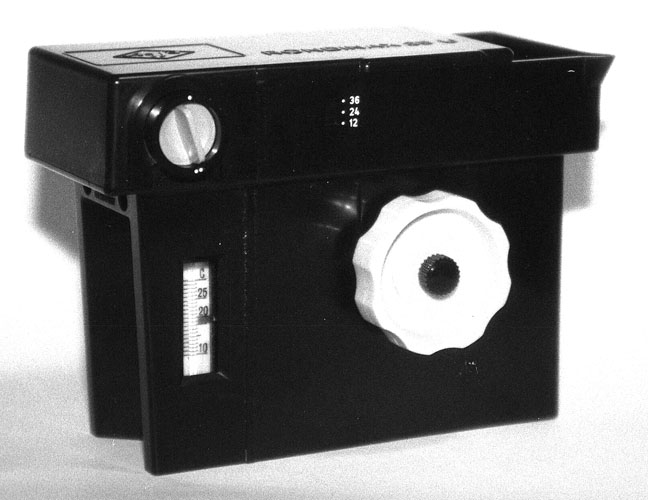 Agfa Rondinax 35U developing tank
Many people I've spoken to don't realise that, if you're just developing negatives or slides, you don't need a darkroom. The only part of the process that you have to do in absolute darkness is loading the film into the developing tank. While a changing bag is the usual method, fiddling under the duvet works just as well. If you can track down a daylight tank like the Agfa Rondinax, then you can avoid even that.
Working out the right combination of time, temperature and developer concentration is easy too, thanks to apps like MassiveDev Chart. Just pick your film and developer, set the size of your tank in the preferences, and it'll work out how much you need to mix up, and how long to develop for. There's even a built in timer that will tell you when to agitate the tank.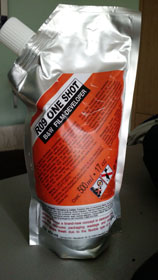 Rodinal is cheap developer
If even that sounds like hard work, try 'Stand developing' which is more or less what the name suggests. Take any black and white film, and a weak solution of Rodinal – a developer that's been around for over 100 years, also known as R09.
Add the developer to your tank, leave it for an hour, and then use stop and fixer as usual. Fixer, typically based around sodium (or ammonium) thiosulphate can also be made up easily from chemicals available from any decent chemist's shop.
You may not get the best results from all films, but you will get results. In my own 300ml tank, I use a 1:50 developer solution for this, so just 6ml of chemicals will develop a film in an hour.
You can buy 500ml of Rodinal for £8.99, which works out at a little over 10p per film. Stop bath and fixer cost extra, but both can be re-used, unlike developer. AG Photographic has a pack of all the chemicals you'll need to get started for just £27.98.
If you're feeling really skint, you can make your own 'Caffenol' developer using soda crystals and instant coffee. In short, processing your own black and white really is incredibly cheap, and rewarding. If you want to give it try, you could do worse than check out Ilford's basic instructions.
Colour processing is a bit fiddlier – you need to maintain a constant temperature – but it's still possible to do at home. I've processed both C41 (negative) and E6 (slide) films successfully. A one-litre pack of Tetenal E6 chemicals costs around £36 and will develop a dozen films, while for negatives, the same size pack costs around £18
Share it
One of the reasons why we take photos, of course, is to share them. Processing at home leaves you with a load of negatives – or transparencies if you used slide film.
There aren't many specialist film scanners still made. Apart from the eye-wateringly expensive models from Hasselblad, for the less well-heeled, Plustek is about the only manufacturer still doing them, but there are some basic cheap units that are little more than a light and a CCD to digitise the film.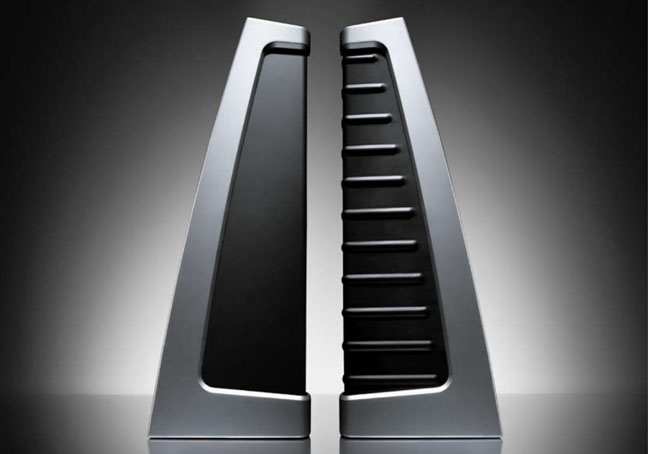 A different class: Hasselblad Flextight X1 and X5 scanners
Or you can hunt around eBay for an old scanner; that's how I picked up my Canon FS-4000. If you have a PC with a SCSI port, you may be able to grab a bargain scanner that few others can make use of.
Since most of us share photos online, scanning is all you need to do to bridge the analogue-digital divide. You can share photos online via Flickr, Facebook, 500px or your other favourite site. If you have a flatbed scanner already, it's worth checking to see if it has a film adaptor – you may already have all you need.
Sponsored: Minds Mastering Machines - Call for papers now open