Google hooks up with group formerly known as ISIS to battle Apple Pay
Softcard deal sees Google Wallet installed on major carriers' mobes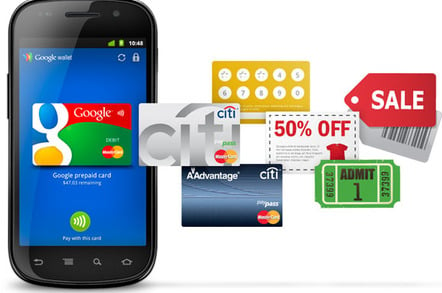 Google has inked a major deal with mobile payment alliance Softcard that will see its Google Wallet payments system pre-installed on phones sold by American carriers AT&T, T-Mobile, and Verizon.
The carriers will begin shipping the Google Wallet app later this year on mobes running Android 4.4 "KitKat" or higher, according to a Monday blog post by Ariel Bardin, the Mountain View Chocolate Factory's VP of payments.
The devices will include full support for Google Wallet's near field communication (NFC)-based pay-by-bonk feature, Bardin said.
Previously, the carriers had blocked Google's payment tech from running on their devices, leaving Sprint the only one of the US "Big Four" to support it.
AT&T, T-Mobile, and Verizon, meanwhile, teamed up to create a competing mobile payments tech in an alliance that was initially known as ISIS but was later renamed as Softcard (reportedly to avoid unfortunate associations with Islamic militants).
Softcard was never very popular with consumers, though, and with Cupertino making major headway with its upstart Apply Pay system, the carriers have apparently had a change of heart about allowing Google into their networks.
Earlier this year, the online ad-slinger was thought to be considering buying Softcard outright. That doesn't seem to have happened, but Bardim said Google is "also acquiring some exciting technology and intellectual property from Softcard to make Google Wallet better."
There was no word on whether any Softcard employees will be joining Google as part of the deal.
Also not clear is what this means for Softcard and those few customers who actually use it. "For now, Softcard customers can continue to tap and pay with the app," the firm said in a separate blog post. "We will share more information with customers and partners in the coming weeks."
The deal brings the mobile payments market closer to becoming a two-horse race between Apple and Google, but there's no foregone conclusion yet. Plenty of other outfits – including the credit card companies and major players in the retail sector – would also like a piece of the action.
On potential major competitor is Samsung. Although Google's tech enjoys a major footprint on Android mobes, Sammy still produces more Android devices than any other company – and it just bought mobile payments firm LoopPay last week. ®
Sponsored: Minds Mastering Machines - Call for papers now open