NO BRAIN needed to use Samsung's next flagship mobe
Just press the button and trust the tattling-tellies company to do the rest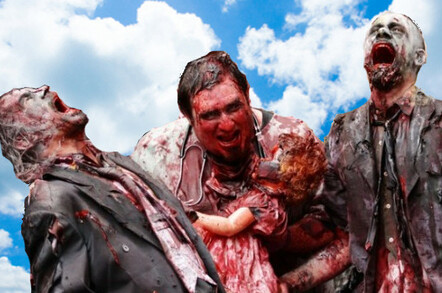 Apple fanbois are often accused of ignoring all logic when purchasing iPhones. Samsung looks to be heading down the same path, as it has declared its next top-end smartphone "will be intelligent and do all the thinking for users."
Samsung's ambitions aren't to lobotomise users in all phases of a smartphone's operations. But the company's DongHoon Jang, senior veep and head of camera R&D group at Samsung Electronics, thinks users will appreciate the chance to disengage their brains when taking photos.
In a gushing post about just how hard the company works to make the cameras in its smartmobes really, really good, the exec says "We meticulously evaluate every single facet of our smartphone cameras by taking over 10,000 photos in every imaginable lighting environment for analysis. The same passion and dedication has been put into building the cameras for the release of our 2015 flagship model."
We're pretty sure that's a reference to the successor to the Galaxy S5. Whatever the new model will be called, Jang says "It will be intelligent and do all the thinking for users, allowing them to take amazing pictures under any conditions, without having to worry about anything more than just pressing the shutter button."
Or worry about whether the phone is relaying confidential information to the cloud?
Let's not digress so cynically and instead note that in your correspondent's experience the S5's camera is already a pretty mighty contraption: SLR-wielding kin occasionally sigh in frustration when they see its output. If Samsung can go one better than the S5's camera, as Jang's post suggests it intends to, its next flagship phone might be rather interesting.
Or it could underwhelm: the many-megapixel cameras in Micronkia's Lumia's haven't shot those handsets up the charts.
The Lumias, of course, lack something the Galaxies possess in large quantities: apps people want. So perhaps a kick-ass camera will work for Samsung. Something needs to stand out in the new handset as the company's electronics arm is struggling, partly because of slow S5 sales.
We'll know if it's onto something on the eve of Mobile World Congress. ®
Sponsored: Minds Mastering Machines - Call for papers now open