BlackBerry chief vows: We'll focus on 'core devices' and on, er, not losing money
Don't expect tons of new BlackBerrys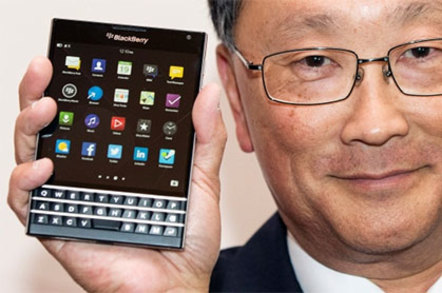 BlackBerry chief John Chen has said that the Canadian firm won't be trying to launch too many new devices as it struggles to claw its way back to profitability.
Chen told Reuters that the firm was focused on profits, so it wouldn't be pushing for heaps of new smartphones.
"Once we turn this company to profitability again, I will do everything I can to never lose money ever again," he said. "That is definitely something I am very focused on doing."
Since Chen took over the firm late last year, he's implemented a restructuring plan that has included selling assets, making manufacturing partnerships and extending apps to other mobile makers. The firm is also focusing its mobes back on the business sector, pushing more secure devices to corporate and government customers.
"We will survive as a company and now I am rather confident," he said. "We're managing the supply chain, we are managing inventories, we are managing cash, and we have expenses now at a number that is very manageable. BlackBerry has survived; now we have to start looking at growth."
In September, the company announced that the handset division was back in the black after five quarters of straight losses, which was enough to post narrower losses overall for the quarter. But the company is hardly out of the woods yet.
It's still having trouble finding its place in the mobile world, trying everything from strange square smartphones to nostalgic throwbacks. But Chen said that the reception for the oddly cuboid Passport was good.
"I'm happy in the receptivity of the design. I'm happy that this product is a successful product, but we did not make that many of them, so it is in limited supply almost everywhere," he said.
He added that the firm would be focusing on a core set of phones next year, with refreshes on the Passport and the nostalgic Classic as well as one new device. ®
Sponsored: Minds Mastering Machines - Call for papers now open