Cheap blow-up baby incubator bags James Dyson award
Less cool than last year's robo-arm but still useful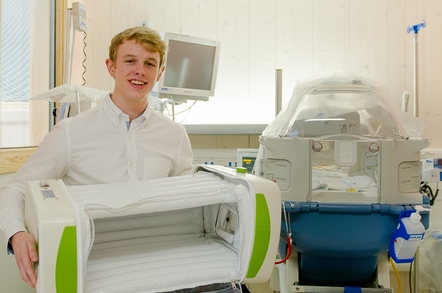 An inflatable incubator for use in poor countries has won this year's James Dyson Award, which celebrates university student inventions.
James Roberts, a 23-year-old University of Loughborough graduate, won £30,000 to develop his prototype (called MOM) for mass production. The university will also receive £9,000.
The invention provides the same performance as a £30,000 modern incubation system, but costs just £250 to manufacture, test and transport.
The incubator is blown up manually and is heated using ceramic elements. It includes a temperature and humidity screen and an alarm that will sound if the desired temperature changes.
James Dyson said: "The western world takes incubators for granted – we don't think about how their inefficient design makes them unusable in developing countries and disaster zones. By bravely challenging convention, [Roberts] has created something that could save thousands of lives."
Roberts said he got the idea after watching a documentary about the high death rate among premature babies in refugee camps.
He said: "Like many young inventors, there have been struggles along the way – I had to sell my car to fund my first prototype! The dream would be to meet a child that my incubator has saved – living proof that my design has made a difference."
According to the World Health Organisation, every year, an estimated 15m babies are born premature, with the number rising, and over one million babies die annually from pre-term birth complications.
The award is open to current and recent design engineering students around the world.
Last year a US team from the University of Pennsylvania won the award for its Titan Arm — a lightweight, battery-powered upper-body exoskeleton that augments the wearer's arm strength by 18kg to help reduce fatigue. ®