Upstart brags about cheaper-than-Amazon private cold data cloud
Storiant man asks you to check out their racks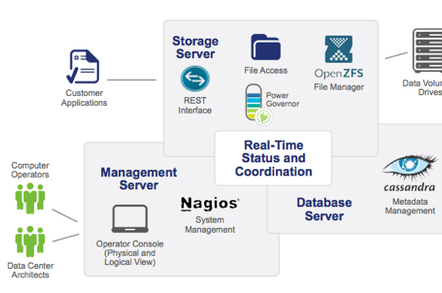 Storiant is an object storage startup which claims its customers can use its technology to store petabyte-scale data in a private cloud at a price below public cloud storage. How does it pull this trick off?
It has a customer, Markley Cloud Services in New England, which it says stores 11PB of cold data in a Storiant silo – as Infrastructure as a Service. Markley Group's CTO, Patrick Gilmour, claimed: "We can continue to offer our existing Tier 1 & Tier 2 storage services, supplemented by new, long-term storage services priced close to a penny per gigabyte per month. It's a huge cost savings for our customers."
A dozen pennies per gig for a year certainly sounds cheap as chips.
The product is a hardware array and ZFS-based software. The hardware features rack enclosures of desktop drives and shingled media drives. The firm claims its "Storiant Power Governor reduces the active drive time to 10 per cent or less, effectively doubling the life of the drive."
The startup says it has extensively modified OpenZFS software to deliver the 18 "nines" of reliability with just two data copies" "Data is continually checked, and hot spares allow for immediate rebuilds in case of drive failure. ZFS also supports high-performance streaming for migration, video streaming and big data needs. … Our software is multi-tenant and scales linearly in storage and write capacity."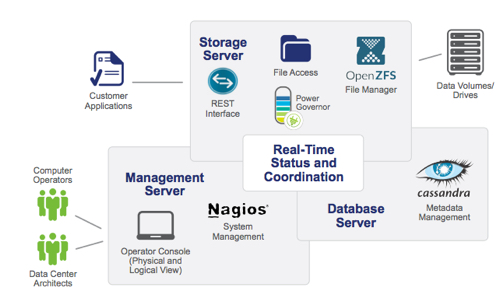 Storiant software graphic
Storiant claims its object storage software for structured and unstructured data provides:
Total cost of ownership (TCO) less than $.01/gigabyte/month
Scalability to exabytes
Eighteen "nines" of reliability – with two copies
Immutability for compliance
Multi-tenancy
10 Gbit throughput for fast migration and big data analytics
Uses 75 per cent less power plus doubles disk life with power-down capability
Reduces support costs via sparing and redundancy
Open standards integration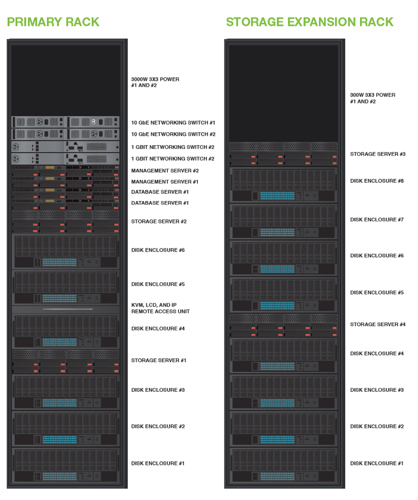 Storiant's two rack types. Click to enlarge image and read the small print.
According to Storiant, the hardware consists of a Primary Rack and Expansion Rack. The Primary Rack has 6 x 60-disk enclosures plus storage, management and database servers. It has a 1PB usable capacity, accounting for losses to formatting, ZFS redundancy and overhead, and realistic volume utilisation at 95 per cent.
The Storage Expansion has another 8 x 60 disk enclosures, and more storage servers as needed. It has a 1.35PB usable capacity.
Storiant was founded in 2012 as SAgeCloud by CEO Jeff Flowers, who was the co-founder and CTO of online backup supplier Carbonite, and Mark Rees, its CTO. Carbonite CEO David Friend is chairman of Storiant's board.
There was a $3.2m A-round of funding in 2012, and a $10m B-round in 2013, making a total of a modest $13.2m. En route the company's name was changed to Storiant.
Remember Copan and its power-down MAID architecture? This is another assault on tape library archives using powered-down and higher capacity drives. Maybe it will succeed where poor Copan, years before its time, failed, crashed, and burned. Let's hope so.
Check out Storiant's website, where you will find a product FAQ and datasheet (PDF). ®
Sponsored: Minds Mastering Machines - Call for papers now open