Giant advertising, sorry, 'Search' firm Google makes BILLIONS - but not enough for Wall St
Another three months, another 16.5 Instagrams of cash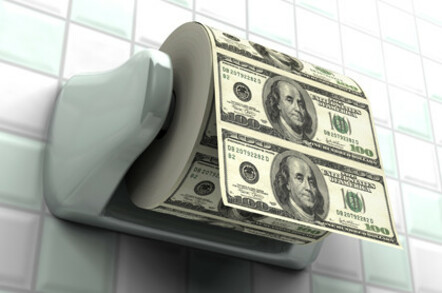 Google did manage to shrink its dependency on advertising in the third quarter of fiscal 2014 – albeit slightly – but lest you doubt what the online giant's actual business is, ads run mainly beside other people's content still accounted for 89 per cent of its sales.
And as has been the case for many consecutive quarters, sales were up. The Chocolate Factory's total revenues for the three months ending on September 30 were $16.52bn, a 20 per cent increase from the same period a year ago.
Despite that growth, however, the Wall Street analysts were let down, yet again. They were expecting revenues of $16.57bn and earnings of $6.53 per share, but Google's actual earnings were just $6.35 per diluted share, poor dears.
What's more, the ad-slinger's net income was a mere $2.81bn, down 5 per cent from a year ago – though when you exclude items like depreciation, amortization, and stock-based compensation charges, it was up 14 per cent, to $4.37bn.
Of the $14.68bn of Google's revenue haul that came from ads, around 77 per cent was from ads served on its own sites, which were up 20 per cent from last year's quarter. Ad revenues from Google's network members' sites grew more slowly, up 9 per cent, year-over-year.
Google paid out $3.35bn of its loot to its advertising partners, a 13 per cent year-over-year increase. But these so-called traffic acquisition costs were only 23 per cent of its revenue, as compared to 24 per cent in the year-ago period.
In keeping with recent quarters, however, while more people are clicking on Google's ads, advertising with Google is cheaper than it once was. Paid clicks were up 17 per cent, year-on-year, but the average cost-per-click was down 2 per cent. To be fair, though, that's a far less dramatic price decline than the company saw in recent quarters.
Google, on the other hand, spent more on operations this quarter than it did a year ago. Capital expenditures – which this quarter were driven mainly by data center construction, production equipment, and real estate, in that order – were up 6 per cent, to $2.42bn. General operating expenses were $6.10bn, up 33 per cent. And data center operations, hardware inventory, and related costs were $3.35bn, a 37 per cent increase.
You'd think it would be a good thing, then, that the Mountain View firm showed an impressive 50 per cent growth in its non-advertising businesses, including the Play store, sales of Nexus devices, and its cloud computing services, among other things. But given that all of those other revenue sources combined only brought in $1.84bn, they're really just a drop in the bucket compared to ads.
Not that that's a bad thing for Google shareholders. As one look at its balance sheet will tell you, ads are where the money is. Consequently, despite missing analysts' expectations, the company's shares only dipped a modest 2 per cent in after-hours trading on the news. ®