Linux Foundation plans open-source drone hit
Drone me, Tux is going UAV?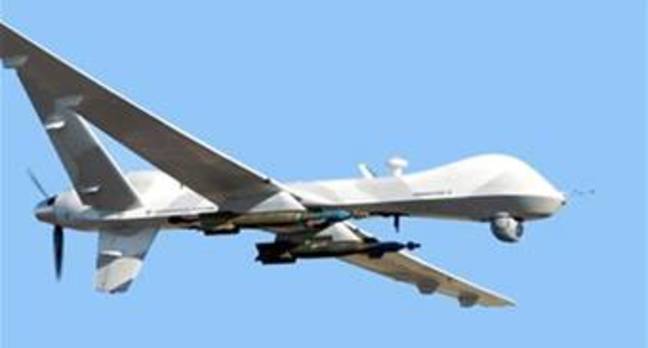 The Linux Foundation is targeting drones through a project building a reliable open-source software platform for Unmanned Aerial Vehicles (UAVs).
The Dronecode Project is due to be announced today at the embedded Linux Conference in Dusseldorf, Germany.
Dronecode Project is founded on the APM UAV software and code that had been hosted by project co-founding member 3D Robotics – until now. Other founding members include Box, DroneDeploy and jDrones.
The Foundation said Dronecode would help advance technologies in data analysis, storage and display for drones and accelerate adoption of more affordable and – ahem – more reliable open-source software for UAVs.
Drones are enjoying a mainstream renaissance in acceptance and application thanks to unending automated war in Iraq, Pakistan and Afghanistan and since Jeff Bezos told prime-time US TV of his dream for packaged deliveries from above.
But, building drone systems often sees drone makers building their own software systems. This can mean greater cost and potential problems in the code while throwing up a hurdle to those building drone hardware and apps.
All this is a problem not just for drone makers but also for customers looking for affordable and reliable flying machines – customers like Bezos.
The Linux Foundation is normally associated with its work on extending the presence of the Linux kernel and in more Earth-bound locations.
Dronecode becomes a Linux Foundation Collaborative Project, same as the merged Mego and Tiezen efforts for Linux in devices, the Xen hypervisor, and Open Daylight for software-defined networking (SDN).
The Linux Foundation apparently believes it can bring the same process, order and buy-in to drone software that it has on other projects.
Dronecode will be governed by a Linux Foundation Technical Steering Committee, which will become the primary decision-making group.
Falling under the Linux Foundation means Dronecode can scale and be developed in a vendor-neutral environment.
The project will be headed by rsync author and Samba co-lead Andrew Tridgell – also lead maintainer in the development of APM. ("Tridge", along with Autopilot brain surgeon Linus Penzlien, is also helping The Register's LOHAN team with custom Pixhawk parameter wrangling for our spaceplane's hardware-in-the-loop simulations. For more on the LOHAN project, click here.)
Jim Zemlin, executive director at The Linux Foundation, said in a statement the Dronecode community would now "receive the support required of a massive project right at its moment of breakthrough."
"The result will be even greater innovation and a common platform for drone and robotics open source projects," he said. ®
Sponsored: Application managers: What's keeping you up at night?