All awash in red ink, but Overland Storage is still swimming
Losses not as bad as they look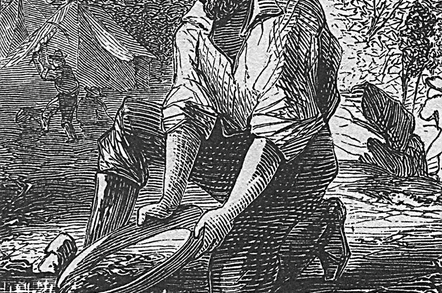 Analysis Overland Storage, the troubled tape and low-end scale-out disk array storage vendor, is still battling on, with a swell in revenues despite increasing losses. How does CEO Eric Kelly do it?
Overland's fourth quarter (Q4) and fiscal 2014 year headline numbers are, well, impressive comes to mind:
Q4 revenues of $24.2m, up 100 per cent on the $12.1m reported a year ago and the $20.3m last quarter
Q4 net loss of $7.4m, two million worse than the $5.4m it lost a year ago, and $800k worse than last quarter
Full year 2014 revenues of $65.7m, a jump of $17.7m on last year's $48m, reflecting the Tandberg take-over
Full year net loss of $22.9m, 17 per cent worse than last year.
Overland took over Tandberg Data, which explains the revenue jump, but cost efficiencies aren't coming through to the net income line yet. We have recorded 17 consecutive quarters of losses for Overland and five consecutive fiscal year losses, deepening losses in fact.
However, things could be getting better. We took Overland's annual loss amount, dropped the minus sign and divided it into that year's revenue total and produced this chart: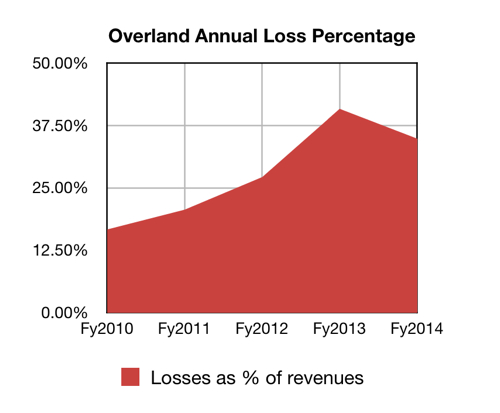 Overland's loss numbers as percentage of revenue
The loss as a percentage of revenues is getting smaller.
Kelly claimed that: "Our acquisition of Tandberg Data in January enabled us to build a solid foundation in data storage products, and should provide a clear path to profitability." There's a hostage to fortune.
The long running lawsuit against BDT is over and Overland is merging with Sphere 3D getting it into the desktop and app virtualisation business.
That means the three channels: Tandberg, Overland and Sphere 3D, should all get more product sale opportunities, with Kelly saying the Sphere 3D deal "creates a strong foundation for the company to emerge as a new, contemporary challenger in the fast-growing virtualisation, mobile, cloud and data storage markets."
Sounds brilliant, but Overland has been in the fast-growing data storage market for many years.
The backers and execs at Overland are like an old gold miner: "Thar be gold in them thar hills and I'm a-gonna find it iff'n I die trying." Keep on digging away Overland. ®