Want a Tizen phone to build apps for? Now's your chance – provided you don't need it to work
Outdated handsets that can't make calls can be YOURS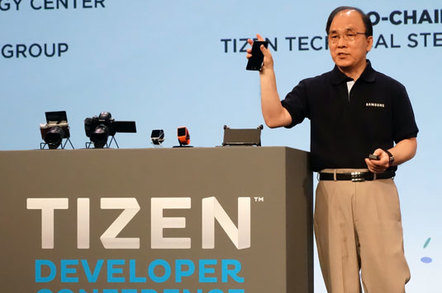 It's looking worse and worse for Samsung's Linux-based Tizen OS as a smartphone platform contender. Not only are we unlikely to see a consumer mobe running Tizen this year, but it seems even developers will be hard-pressed to get their hands on working kit.
The Tizen Project emailed devs with information about the next round of its Development Unit Program on Thursday, but the news was hardly encouraging for anyone thinking about developing for Tizen-based mobes.
The only development handset on offer is a device dubbed the RD-PQ, which is described as a development unit with a plastic bezel "based upon Galaxy SIII-class hardware." In case you haven't been keeping track, that particular Samsung model debuted in May 2012.
Even worse, the program emphasizes that these devices are "not phones" – they have Wi-Fi, but they can't connect to GSM networks. They're offered primarily to help developers test functions that are hard to verify in an emulator, such as reading from the accelerometer.
Also, the devices aren't available to just anyone. To get one, you'll need to explain what you want to do with it in detail, and only developers who plan to "make a material and substantial contribution to the Tizen platform and ecosystem" are eligible.
To be fair, these units are being given away for free and the goal of the restrictions is to ensure that the limited supply can distributed as widely as possible. But the program is still a far cry from what developers were previously told would happen by now.
Back in May, sources said to expect Samsung to launch its Samsung Z Tizen mobe at a flashy event to coincide with the Tizen Developer Conference in San Francisco in June. The Z is an actual phone, with full GSM capability, a 2.3GHz Qualcomm Snapdragon 800 processor, cameras, a brace of sensors, NFC, voice commands, and more.
But although Samsung claimed to have "launched" the device at the San Francisco event and there was plenty of talk about it, it was never actually released. There were plenty of the devices on display, but while developers could look and poke at them, they weren't for sale, and no ship date was offered.
Next we were told that Samsung would announce commercial availability of the Samsung Z in July at a similar event in Moscow. Again, no such luck; there were more demos, but no retail phones either for sale or giveaway, and no Russian carrier partners stepped forward.
It's hard to say at this point when we can expect to see any kind of Tizen phone hit the market, and even harder to understand why phone app developers would be investing resources in the platform. Other than Samsung, no handset makers have said they will support it. One top Huawei exec has even said the OS "has no chance to be successful."
Still, it may not be all doom and gloom. The lack of decent developer handsets for Tizen may be just one more indication that Samsung is shifting its emphasis to other types of gizmos, such as cameras, wearables, and car infotainment systems.
Besides the RD-PQ, the Tizen Development Unit Program also offers a preconfigured Intel Atom-based Next Unit of Computing (NUC) box, presumably for prototyping software for types of kit that we haven't seen yet.
Tizen fans who would like to fiddle around with either type of developer unit have a limited time to apply for this round of the program, however. The Tizen Project began accepting applications via its website on Thursday, and it will continue to do so through October 17. ®
Sponsored: Minds Mastering Machines - Call for papers now open