Gartner ranks upstart trio ahead of EMC, HP and IBM in battle for flash array dominance
Analysts break down why some are ahead and some are behind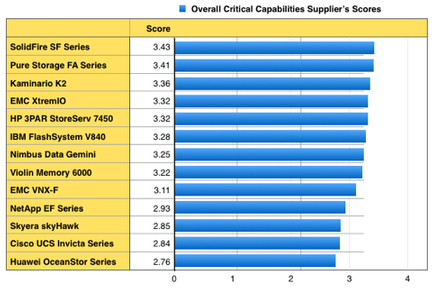 Gartner's thrilling solid-state appliance critical capabilities report ranks three startups ahead of EMC, HP and IBM: SolidFire, Pure Storage and Kaminario.
This assessment is not reflected in Gartner's Magic Quadrant for solid-state arrays.
While the MQ looks at a company's overall ability to execute, and its vision, the critical capabilities report examines an individual product's capabilities – and it comes up with surprising different results. Here's the overall ranking, which aggregates individual use-case scores: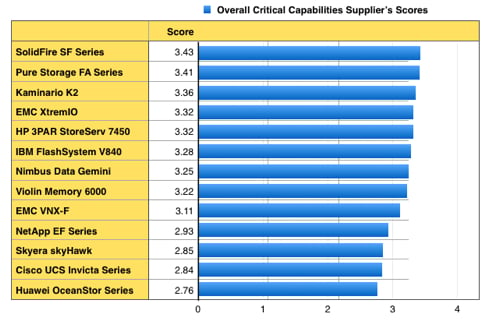 Gartner's solid-state array critical capabilities stats: Overall supplier scores
Here, for reference, is the solid-state array Magic Quadrant: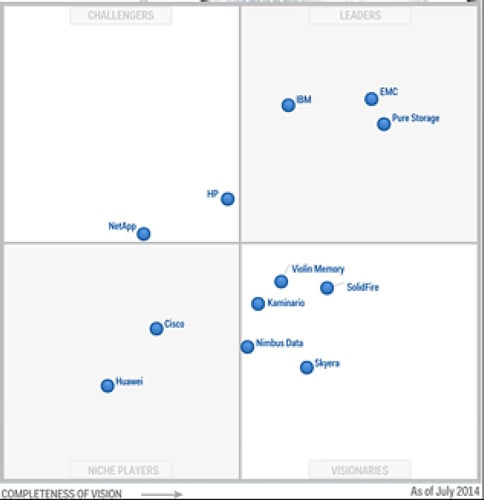 Gartner's solid-state array Magic Quadrant
SolidFire has the top position in the capabilities report, but both it and third-ranked Kaminario are only in the visionaries' quadrant of the MQ. Both EMC and IBM are in the leader's box, and HP is in the Challengers' square. Only Pure is consistently in a top-rank position.
What are some of the capabilities that lie behind Gartner's ranking of supplier's products in its report?
SolidFire SF Series: differentiated by QoS; close integration with common hypervisors; commendable REST-based API; broad cloud management platform and public cloud API support; and self-healing infrastructure.
Pure Storage FA Series: compelling data reduction; good reputation for reliability; overall low array capacities; QoS features limited; inclusive pricing; product satisfaction guarantees; and controller investment protection.
Kaminario K2: Strong performance with public benchmark transparency; scale-up and scale-out; no file access support; no replication; all-inclusive pricing; limited QoS; very good non-disruptive software and firmware updates; 7-year SSD warranty; and $2-per-GB average pricing.
EMC XtremIO: Upgrade to compression disruptive; node addition means an outage; and blocks of data inaccessible if X-brick has complete outage.
HP 3PAR StoreServ 7450: No inline dedupe or compression; no file protocol support; and complex pricing compared to startups.
IBM FlashSystem V840: Only block access; no dedupe; and you need separate SVC for data management services meaning more complex management.
Nimbus Data Gemini: Broadest protocol support in industry; client feedback on full depth of capability is mixed; data reduction features need proof of concept verification; and QoS features need to evolve.
Violin Memory 6000: Strong block and file support; recent data reduction features not included in this ranking, neither is Windows Flash Array; and non-inclusive pricing,
EMC VNX-F: Relatively complex management; post-process dedupe is not inline; and separate data protection package needed.
NetApp EF Series: Relatively poor management; no data reduction; and longer-term viability questionable with FlashRay coming.
Skyera skyHawk: Only single controller and power supply – dual-controller skyEagle model is late and needed; firmware upgrade disruptive; and you need two to avoid single point of failure with software like DataCore.
Cisco UCS Invicta Series: Disruptive microcode updates; no native encryption; limited public benchmark availability; and limited enterprise ISV support.
Huawei OceanStor Series: No dedupe and compression; limited software; firmware upgrades are disruptive; no encryption; public benchmarks are available; and has unified block and file access.
Firstly, we reckon Violin would be ranked higher if its Windows flash array and Concerto management and data reduction features were included.
Secondly, SolidFire and Kaminario have products in the same class as Pure Storage. SolidFire differentiated itself by meeting the requirements of cloud service providers followed by a subsequent move into the enterprise. Kaminario needs, in our view, to work harder to emerge from the general solid-state array pack.
One analyst privately suggested an acquisition by a supplier like Micron might work in its favor.
NetApp's future position will no doubt be improved once its coming FlashRay product appears. Skyera has had a CEO change, and its ability to bring rounded enterprise-class products to market more quickly will hopefully improve.
Nimbus Data needs, according to Gartner, better client feedback and stronger evidence that its flexible and selectable data reduction features work.
Huawei obviously needs to add data reduction features, lessen the impact of firmware upgrades, and add data management software features as well as encryption.
Get your own copy of the critical capabilities report from the SolidFire website – registration is required. ®
Sponsored: Minds Mastering Machines - Call for papers now open