Qualcomm pumps LTE into quad-core CPU for sub-$100 mobes
The next billion folks to come online will do so at speed and with video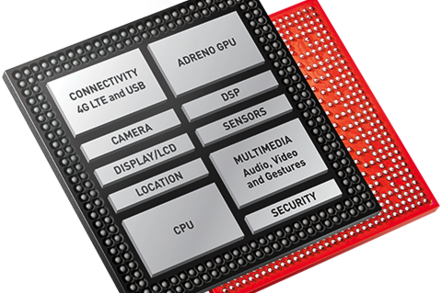 Qualcomm wants to get more LTE smartphones running high-quality video, preferably with its silicon, and has released Snapdragon variant designed to do just that.
With competitor MediaTek squarely in its sights, Qualcomm's Snapdragon 210 is a 28-nm for the entry-level market: it's got a 1.1 GHz quad-core Cortex-A7 CPU, Adreno 300-series GPU, and supports up to 8 megapixel cameras, and display resolution up to 720p.
Video support runs all the way to full HD with HVEC (high efficiency video coding) support. The chip also has USB, Bluetooth, single-stream 802.11n WiFi, and NFC support.
To minimise the number of inventory items mobe-makers need, there's a welter of air interfaces integrated into the chip: 4G LTE-Advanced World Mode covers LTE frequency division duplexing (FDD) and time division duplexing (TDD), WCDMA to cover 3C-HSDPA and DC_HSUPA; CDMA 1x; EV-DO revision B; TD-SCDMA and GSM/Edge.
Carrier aggregation support to 20 MHz channels in LTE provides download speeds of up to 150 Mbps, Qualcomm says, and the chip can run dual-SIM phones.
Qualcomm also says this is the first LTE-Advanced chipset to target the sub-US$100 phone category.
Since the world hasn't turned off its 3G networks yet, there's a suitable variant, the Snapdragon 208, whose main differences from the 210 are lower camera resolution (5 megapixels), 720 video resolution, and top download speeds of 42 Mbps.
Qualcomm's announcement is here. ®