Work in the tech industry? The Ukraine WAR is coming to YOU
What weapon is more indiscriminate than bombing? SANCTIONS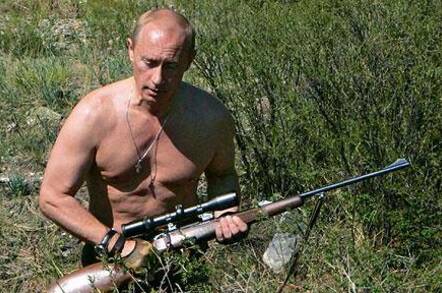 Anyone in tech who thinks that the conflict in Ukraine - which has been smoldering since the end of 2013 - is not their business should think again.
At the weekend Russia was given one week by European Union chiefs to reverse course in the Ukraine or face new sanctions.
Russia has been accused of interfering in Ukraine, supplying and assisting rebels who've been on the warpath since an uprising in the capital toppled the pro-Moscow leadership of Viktor Yanukovych. The "rebels" - some of whom at least are widely believed to be Russian soldiers fighting on behalf of the Kremlin, but without showing Russian insignia – want to split from Ukraine and join Russia.
The standoff on the annexation of the Crimea and the downing of Malaysian Airlines flight MH17 in July in a separatist-controlled area near the Russian border saw the EU respond in August.
While separatists and Ukranian troops stand off in the wheat fields of Eastern Ukraine, western tech firms wishing to export to Russia face being bogged down in a maze of export regulation and compliance. Or worse - excluded from the Russian market entirely should things escalate.
The EU in August rolled out Stage-3 sanctions that clamped down on how businesses and individuals in the EU trade with Russia – one of the world's largest markets. The sanctions put Russia on a par with Iran or Syria in terms of exports.
The US had already blacklisted 16 individuals plus one Russian bank in March. So far, though, despite some tough talking from Washington, London and Brussels, the sanctions have made little difference to trade.
On the contrary, Western tech firms sound bullish about business in Russia and are taking recent events in their stride, spinning it as an exercise for the boys down in the compliance department.
Iain Stephen, Hewlett-Packard's EMEA server vice president, told The Register at an company event last week sanctions hadn't yet hit HP's business in Russia; rather, there's still plenty of growth as spending has shifted from this year's Sochi Winter Olympics buildup to other sectors.
"There's still some decent growth in Russia in some older technologies because they are at the other end of the SAP curve," he said.
The European chief of another major technology and systems supplier that competes with HP on PCs and servers, but who wished to remain anonymous, agreed. He told The Reg there'd been plenty of "rhetoric" from politicians but said his compliance staff hasn't noticed any new details that change the way his business operates in Russia.
Analyst IDC has cut its forecast for IT spending in Russia. It now believes overall spending will fall by 0.3 per-cent in 2014 with tablets, PCs and high-end enterprise servers bearing the brunt. IT services will grow by five per cent, but that's down from 11 per cent last year and 27 per cent in 2012.
But it's difficult to conclude that EU and US trade restrictions are the root cause for Russia and her citizens' decision to cut back. Rather, IDC says general pessimism is dampening IT spend in Russia.
"Business confidence is down, so businesses are delaying hardware upgrades and new projects," IDC vice president Stephen Minton told us. "That was already the case, even before Ukraine, but recent events have just made things worse."
So far, it would seem the UK's food sector has been the biggest loser, as Russia retaliated with a counter blockade on foods coming into the country from the UK, the US and other western countries.
That said, tech firms are rattled: business chiefs are talking to compliance experts either in house or external, taking soundings and seeking reassurances they are operating on the right side of the law.
And with good reason: tread on the wrong side of a sanction and individuals wind up in jail while companies cop hefty fines.
Ross Denton, partner in the trade sanctions practice of Baker McKenzie, told The Reg, his company is now taking "a lot" of enquiries from tech firms on the West Coast and in Washington DC seeking advice on how to sell to Russia.
The real concern is what happens next: Russia and Ukraine are now talking truce but the bullets have stopped flying before only to start again. The threat of a new round of sanctions is still in the air but the real worry is it's western firms, not Mother Russia, who lose out in the long term - not just from new restrictions but from the existing rules as they begin to bite.
Currently, firms selling in a number of designated categories under the EU's rules now require national government approval to export. In the UK, that approval must come from the Department of Business Innovation and Skills (BIS) with submissions made to the Export Control Organisation here.
Some restrictions are obvious, others less so.
It's now illegal to sell, supply, transfer or export any "dual-use" goods and technologies. That means, anything that could be used by the Russian military must be reviewed and approved.
Obviously, that would catch anybody selling security or encryption software but it might also scoop up ordinary software companies. Dual-use could include email programs and services, applications and systems that employ encryption as a feature or where encryption has been slipped in by engineers because they thought it would be "cool" or useful in the future.
Encryption is already on a restricted technology list but the new rules could extend to ERP software, PCs and tablets and servers, IT services and support contracts – depending on the Russian customer in question. It could, for example, cover CAD/CAM software used on the one hand to design houses but which could also be applied to the design of Russian military aircraft.
The EU has laid another trap for those exporting to Russia: tech companies need sign-off on technologies or gear that would be used in Russian deep-water, Arctic and shale oil and gas exploration.
Don't just think specialist drilling or exploration systems – think verticals: companies like SAP and Oracle, specialists in business software built specifically for the oil and gas industries and for running manufacturing and supply chain. Think IBM, Dell or HP selling servers or PCs to tablets to run the software in the back office or for use on the desktop or out in the field, on a frozen rig in the Arctic sea.