Flaming heck! Watchdog scolds Apple Mac, iPad fab in staff safety probe
iGiant, factory bosses scramble to investigate claims of hazardous dust, working hours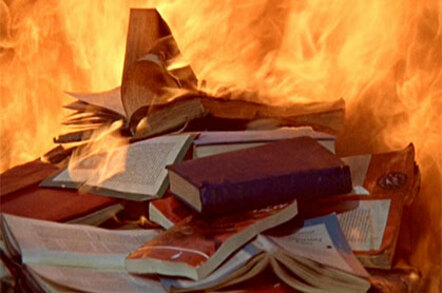 Apple is back in the crosshairs of human rights groups, which claim the corporation has not done enough to stamp out alleged mistreatment of workers at iThing factories.
China Labor Watch and Green America claim that a joint investigation has uncovered dangerous conditions and excessive working hours at a plant that produces components for the iPad and Mac lines.
The report centers on Taiwan-based Catcher Technology Suqian, a firm the Apple contracts to produce the tab and computer parts. Apple said the Suqian facility – about 300 miles northwest of Shanghai in Jiangsu Province – is responsible for iPad and MacBook aluminum cases.
Among the allegations the groups cites are "significant amounts of aluminum-magnesium alloy shreddings on the floor and dust particles in the air – this dust is flammable and combustible," and insufficient safety equipment and training for employees. The report also claims that some among the 20,000-strong workforce are threatening water sources by pouring industrial materials into rivers and groundwater sources.
The probe, carried out by an undercover investigator, also allegedly found teenagers, aged 16 to 18, working ten or more hours per day.
According to China Labor Watch, Apple has been aware of the alleged issues at Catcher since 2013, when it privately reported its findings to the American giant.
"The new report demonstrates that in the 16 months, Apple has not made progress with this supplier to improve conditions for its workers," China Labor Watch claimed.
"In spite of Apple's supplier code of conduct and commitments to prevent these violations, more than a year later, they persist."
Apple is not alone in working with Catcher Suqian. The Chinese firm also manufactures hardware components for HP, Dell, Lenovo, Motorola, HTC and Sony.
A spokesperson for Apple told The Reg it had been working with Catcher on improving fire safety and other procedures at the facility. With the publication of this latest report, Apple will take further immediate action, apparently.
"Our most recent annual audit, in May, found some concrete areas for improvement in Catcher's operations, and we worked with Catcher to develop a corrective action plan," the company said in an email.
"We had scheduled a follow-up visit next month to review their progress, but have dispatched a team there immediately to investigate this report."
In a statement to the media, Catcher Technology said: "We are deeply concerned about the claims made by China Labor Watch, and we take the report very seriously. We are committed to following Apple's supplier code of conduct and will investigate thoroughly."
Assembly line conditions have been a pressing issue for Apple: in 2012, the company rolled out a massive effort to better audit and manage the working conditions at the foreign factories it pays to crank out gear. Apple said that it partners with 160 suppliers through its environment, health and safety management program. ®
Sponsored: Minds Mastering Machines - Call for papers now open