Zoom to the clouds: EMC signs kit deal with Ducati superbike racers
Good news, provided Ducati Corse don't go the same way as Lotus F1...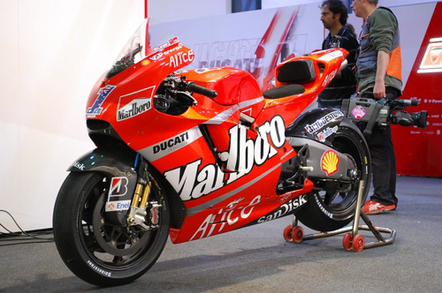 Ducati is hoping to make its motorbikes go faster in races by using Isilon arrays and EMC's Syncplicity file sync'n'share software.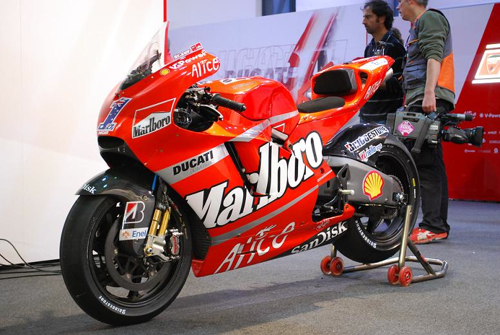 Speedy: Ducati are to get their hands on EMC's Isilon and Syncplicity kit
The Ducati Corse racing team gets the benefit of the Isilion and Syncplicity kit from this month on, and will use it "to consolidate, manage and analyse its vital performance data, including engine fluid-dynamics, test archiving and bike telemetry."
EMC's marketeers gush: "This powerful, efficient and simple storage platform is central to Ducati's data-led approach to racing and will allow it to discover valuable insights around how it can shave valuable milliseconds off its racers' track times."
The data will be stored on the Isilon arrays and shared around the Ducati team via Syncplicity.
EMC is also directly sponsoring Ducati's MotoGP and Superbike World Championship campaigns and getting its logo on Ducati's race bikes as a result.
We bet EMC channel reps will be angling to take customers and prospects to the races. EMC might even build Ducati simulators for the shows it runs and attends. What fun. ®
Bootnote
Last year EMC signed a similar deal with British Formula One team Lotus. In January this year Lotus' boss, Gerard Lopez, confirmed that the team was in debt to the tune of £114m. However, there is no suggestion the EMC deal is linked to the team's financial problems.
Sponsored: Learn how to transform your data into a strategic asset for your business by using the cloud to accelerate innovation with NetApp