Are we there yet, are we there yet? Ballmer 'like a small child' upon buying basketball club
Ex-Microsoft boss in a show of emotion? Colour us shocked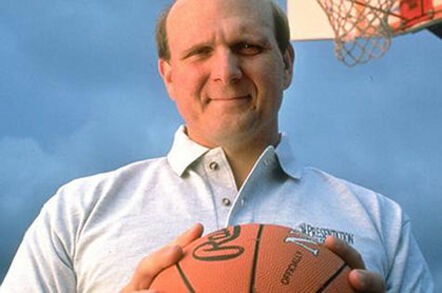 Microsoft mogul Steve Ballmer was as happy as a kid on Christmas morning getting a new toy, according to the woman who sold him a basketball team.
Shelly Sterling, the former caretaker owner of the Los Angeles Clippers, said that Ballmer's enthusiasm to purchase the NBA club was "like a small child."
Speaking in an interview with the Associated Press, Shelly said that the Microsoft boss met with her prior to outbidding groups such as David Geffen and Egyptian royalty for the team.
Sterling was tasked with selling off the Clippers after the NBA stripped her estranged husband Donald Sterling of membership due to a series of racist comments leaked to the press by his mistress. The soon-to-be ex-Mrs Sterling eventually sold the team to Ballmer for a record sum.
"He was really enthusiastic," Sterling was quoted as saying.
"He said I want to come see you immediately."
Steve Ballmer eager and enthusiastic? You don't say!
"He was a like a little child. He was so excited, so happy. We sort of connected. I felt he would be good for the team."
From there, Sterling said she talked Ballmer into a $2bn deal, up from his $1.9bn offer. One caveat of the deal was a promise that Ballmer never move the team from LA to Seattle, Ballmer's hometown and a city which lost its own NBA club - the Supersonics - in a move to Oklahoma City in 2008.
Upon buying the team, Ballmer stepped down from his duties at Microsoft to become a more hands-on owner of a Clippers team which is expected to be a contender for the NBA title this coming season.
While we can only speculate what a Ballmer glee-fit was like behind the closed doors of a Los Angeles board room, we will be able to watch what is sure to be a treasure trove of billionaire behaviour bordering on the psychotic on the afternoon of January 10, 2015. That's when Big Steve's Clippers take on the equally-animated Mark Cuban and his Dallas Mavericks. ®
Sponsored: Minds Mastering Machines - Call for papers now open